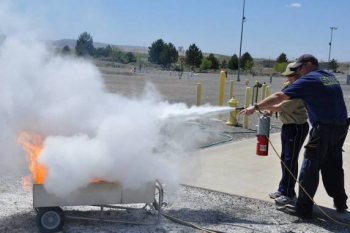 A Hanford site volunteer helps a Boy Scout practice the Pull, Aim, Squeeze, Sweep, or PASS, fire extinguishing technique at the Volpentest HAMMER Training & Education Center in Richland.

Hanford workers volunteered to educate local Boy Scouts about the importance of safety and other topics.
RICHLAND, Wash. – Hanford site services contractor Mission Support Alliance (MSA) hosted a unique opportunity for 52 local Boy Scouts at the Volpentest HAMMER Training & Education Center during two consecutive weekends recently. The youth organization's motto is "Be prepared," and their experience prepared them to earn their safety, fire safety and traffic safety merit badges.
Subject matter experts, who volunteered as mentors, spent the first Saturday engaging the Scouts in real-life situations using simulated hands-on activities.
Experts who provided the youth training came from MSA's Hanford Fire Department and Hanford Patrol, the Hanford Atomic Metal Trades Council, Hanford Guards Union, American Society of Safety Engineers Columbia Basin Chapter, Kennewick Police Department, Hanford Patrol's Police Explorer Post 714 and Oxarc, Inc.
"Drawing from these expert resources, there are few places in the U.S. as uniquely qualified to put on a training session as comprehensive and rigorous as what this group of professionals was able to present," said Andy Foster, manager of health and safety for MSA. Foster was instrumental in coordinating the event. MSA provides integrated infrastructure services for the Hanford cleanup mission, including emergency response services, facility maintenance and cyber security and records management.
The Scouts strived to earn a third merit badge for fire safety on the second Saturday. Working with safety professionals and firefighters, they learned to deal with fire threats safely and responsibly, including home fire prevention. Burn prevention and camping safety were also covered.
"This was a great volunteer event on behalf of the Boy Scouts," said Foster. "The Scouts were exposed to many of the workplace challenges and opportunities that are present at Hanford while earning three merit badges in a small-group setting. I am very thankful for the support from everyone involved to make this happen for the Boy Scouts." 
Each merit badge has a different set of requirements. Scouts must earn 21 merit badges to obtain the Eagle Scout award. There are 130 merit badges offered by the organization. All 52 Scouts completed the requirements necessary to earn merit badges from the HAMMER training sessions.
Operated by MSA, HAMMER stands for Hazardous Materials Management and Emergency Response. The center provides the training opportunities and facilities that support the site missions and workforce.