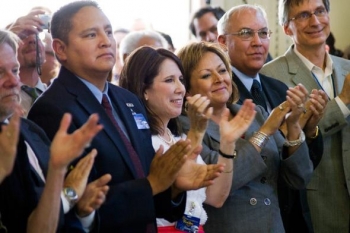 From left, EM Deputy Assistant Secretary for Waste Management Frank Marcinowski, San Ildefonso Pueblo Governor Terry Aguilar, Los Alamos County Council Chair Sharon Stover, New Mexico Governor Susana Martinez, Los Alamos Site Office Manager Kevin Smith, and Laboratory Director Charles McMillan applaud as the 1,000th shipment of waste leaves Los Alamos National Laboratory.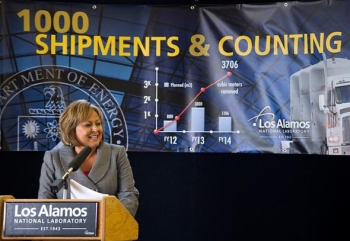 In addition to shattering all of its own shipping records, Los Alamos National Laboratory celebrated its 1,000th shipment to Waste Isolation Pilot Plant with a ceremony that featured New Mexico Governor Susana Martinez.
LOS ALAMOS, N.M. – In the first year of accelerated transuranic (TRU) waste shipments, Los Alamos National Laboratory shattered its own record and became one of the largest shippers of this type of nuclear waste in the country.
"Our goal was to transport 184 shipments of waste during the first year of an accelerated schedule, and we surpassed that by nearly 60 shipments," said Dan Cox, deputy associate director of environmental programs at the Lab.
Los Alamos' previous record was 171 shipments, set last year.
The effort to accelerate the removal of waste stored above ground is the result of an agreement between the New Mexico Environment Department and the Department of Energy to remove 3,706 cubic meters of TRU waste stored above ground at LANL by June 30, 2014.
This project became a priority for the State of New Mexico after the 2011 Las Conchas Fire threatened the Laboratory's transuranic radioactive waste storage facility.
Los Alamos removed 920 cubic meters of TRU waste from its stored inventory during fiscal year 2012. It plans to almost double that effort during fiscal year 2013, with a goal of removing 1,800 cubic meters. The final 1,106 cubic meters are expected to be sent to permanent disposal facilities by June 30, 2014, in accordance with the agreement.
"We successfully realigned our environmental cleanup priorities and shifted resources to meet our first-year goals," Cox said.
"A lot of people worked together to make this effort a success, including the state, the Department of Energy, the Waste Isolation Pilot Plant and the Laboratory," National Nuclear Security Administration Los Alamos Site Office Assistant Manager for Environmental Operations Pete Maggiore said. "Thanks to the outstanding efforts of our partners, we exceeded our goal and are on track to double both volume removed and number of shipments this coming year."