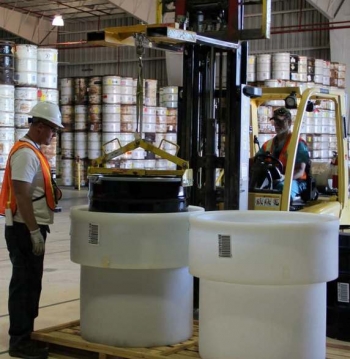 A product drum of mixed low-level waste is lowered into a high-density polyethylene macro-pack.

Macro-packs from the Idaho site are shown here safely and compliantly disposed.
IDAHO FALLS, Idaho – An innovative treatment and disposal technique is enabling the Idaho site to accelerate shipments of legacy nuclear waste for permanent disposal.
In just seven months, employees with Idaho Treatment Group (ITG) have treated more than 1,100 100-gallon product drums of mixed low-level waste (MLLW). The waste is contained in high-density, polyethylene macro-packs that are loaded on to trucks for shipment to an offsite facility. ITG manages and operates the Advanced Mixed Waste Treatment Project (AMWTP).
The new technique, which involves a macroencapsulation process, allows ITG employees to treat and prepare drums for disposal, thereby reducing treatment costs by about 50 percent. This technique allows AMWTP to overpack a MLLW product drum inside a polyethylene macro-pack. Overpacking the original container in this manner isolates the waste and ensures it can be safely handled, transported and permanently disposed. Void space filler is loaded around the interior of the maco-pack and then a high density polyethylene lid, containing heating wires, is placed on the top of the macro-pack. An electronic control unit sends a current of electricity through the lid, sealing the macro-pack in 20 minutes.
"Given the volume of waste we are dealing with, as well as our ongoing goal of trying to find safer, more efficient ways to improve operations, we challenged our employees to come up with a more efficient way of treating MLLW," said Bruno Zovi, MLLW Programs manager. "We considered existing macroencapsulation technologies used at other DOE sites and after looking at the options, employees came up with the approach of using the polyethylene liner without an expensive steel exterior overpack. It's proven to be a very safe, compliant and efficient option."
Ongoing process improvements by employees have resulted in a streamlined process. Once the product drum departs the AMWTP Treatment Facility supercompactor, the MLLW team can have the product drum characterized, certified, treated, shipped and disposed of at an offsite facility within a month.
AMWTP has sent more than 40,000 cubic meters of the estimated 65,000 cubic meters of historically managed transuranic waste out of Idaho for permanent disposal at the DOE's Waste Isolation Pilot Plant in New Mexico. Of the remaining stored waste, approximately 50 percent is estimated to be MLLW.
In addition to the onsite macroencapsulation treatment, the MLLW project continues to certify and ship MLLW to offsite facilities. A combination of onsite and offsite treatment options will ensure AMWTP meets its regulatory milestones for removing waste from the Idaho site.