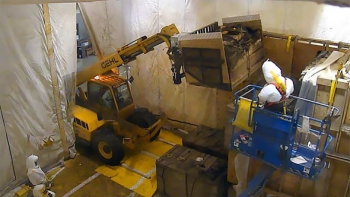 The box retrieval forklift carriage is used to lift a degraded box as retrieval personnel monitor progress.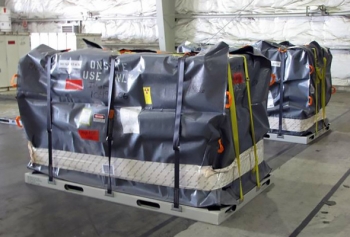 The new soft-sided overpack is placed for shipment for treatment and repackaging.
IDAHO FALLS, Idaho – Continual operations improvements are integral to the mission of the Idaho site's Advanced Mixed Waste Treatment Project (AMWTP). Two recent developments in retrieval operations save taxpayer dollars and illustrate advancements in employee safety and efficiency.
Retrieving and repackaging degraded, decades-old wooden boxes containing waste at AMWTP is a hazard for retrieval crews with EM's cleanup contractor, Idaho Treatment Group (ITG). Workers must retrieve and transport the boxes and safely treat and repackage them for shipment to permanent disposal sites outside Idaho. They are big, measuring 8 feet and weighing up to 4,000 pounds. About 650 boxes remain underneath an earthen berm.
Workers at AMWTP focus on the safe and compliant retrieval, characterization, treatment and shipment of Cold War waste for permanent disposal to sites outside of Idaho. They also support the receipt and processing of transuranic waste from other DOE sites for shipment to the EM's Waste Isolation Pilot Plant. Nearly all waste at AMWTP was shipped in drums and boxes to Idaho in the 1970s and early 1980s from the Department's now-closed Rocky Flats site near Denver.
This year, employees developed a process to simplify the retrieval of boxes. The box retrieval forklift carriage (BRFC) is a unique tool conceived by ITG retrieval employees and designed by their co-workers in the company's radiological and engineering organizations to handle degraded boxes safely. The BRFC is mounted on the end of a fork lift that holds four of the six sides of the boxes.
The BRFC greatly reduces the chances boxes will fall apart during retrieval, provides a more streamlined process, enhances employee safety and allows work to be completed more quickly.
But retrieving the boxes is only part of the task. Another important project is repackaging the boxes so they can be safely removed from the retrieval area.
In the past, AMWTP used large metal containers, called cake boxes, to overpack the boxes. Now, the workers use the new soft-sided overpack system, which improves the process of repackaging boxes.
Based on ITG designs, this new system was manufactured by Bull Run, a Tennessee small business ITG mentors in its mentor-protégé program. Each new soft box costs about $1,600, or 60 percent less than the cost of a cake box. The new system is expected to reduce costs of the retrieval task by about $2.1 million. Retrieval operations are scheduled to end in 2015.
Use of the soft boxes eases the packaging process and reduces steel waste. Workers had to loosen the bolts of the cake boxes and re-torque them once the boxes were inside. These steps took up to two hours to complete for each box and resulted in a large amount of low-level steel waste that was shredded and disposed.
Under the new system, the boxes can be overpacked in as little as 30 minutes and the amount of steel used in the process has dropped by nearly 70 percent, equating to much less secondary low-level waste.