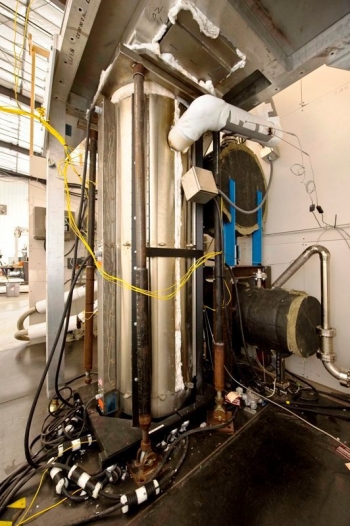 The Idaho site's sodium distillation system.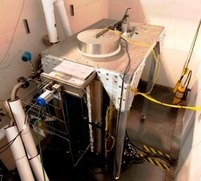 The top of a sodium distillation vessel, where waste enters the system.
IDAHO FALLS, Idaho – The EM program at the Idaho site is using an age-old process to treat transuranic (TRU) waste left over from nuclear reactor experiments.
Developed in the first century and perfected by moonshiners in the 19th century, distillation will be used at the Idaho Nuclear Technology and Engineering Complex (INTEC).
A process for distilling sodium metal from nuclear material was developed by the Idaho National Laboratory. The Lab uses this process to remove sodium from experimental fuel for research purposes.
In the EM program, the method of separating mixtures with heat has been adapted to isolate about 100 pounds of sodium from metal and debris designated as remote-handled TRU waste. Due to its reactivity with air and water, sodium must be removed before the waste can be shipped to EM's Waste Isolation Pilot Plant (WIPP) in New Mexico for permanent disposal. The waste is primarily a product of experiments from the Experimental Breeder Reactor-II and other fast reactor tests. TRU waste contains elements that have atomic numbers greater than uranium.
"The distillation of the sodium from highly radioactive waste using remote waste handling capabilities will provide our workers a very safe environment while facilitating the continued shipment of waste out of Idaho," DOE Idaho Operations Office EM Deputy Manager Jim Cooper said.
EM and its cleanup contractor, CH2M-WG Idaho (CWI), will treat the sodium-contaminated debris in a hot cell, where the waste will be sorted and segregated before it is loaded into baskets that are lowered into the distillation unit. The material will be heated, and vapors will be drawn from the debris. That sodium vapor will be condensed into a metal solid, collected and sent offsite as mixed low-level waste for treatment and disposal. The treated debris will be repackaged and sent to WIPP for disposal.
Premier Technology, CWI's small-business partner, fabricated the distillation components at its Blackfoot facility, where testing is under way. Following successful testing, the equipment will be transported to INTEC and assembled beneath the hot cell.
The plan is to begin repackaging the sodium-contaminated TRU waste and preparing it for treatment in October. Startup of the distillation system is scheduled for next summer.
CWI Vice President Tammy Hobbes applauded employees for resolving the technical challenge.
"Our engineers came together to use their past experience with sodium and innovative thinking to implement the relatively simple technology of distillation to treat an otherwise challenging waste form," she said.
Distillation is currently used commercially to separate crude oil, isolate specific elements from air and create alcohol for industrial uses and for beverages.