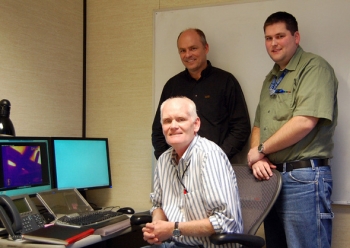 CWI engineers Jeff Jones, David Tolman, right, and Kirk Dooley (seated) developed a treatment to safely dissolve a bicarbonate crust and treat and remove the sodium in the Experimental Breeder Reactor-II at the Idaho site.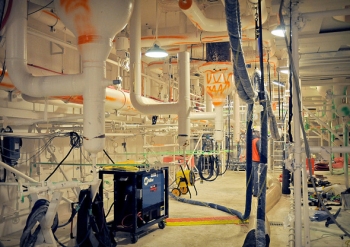 Piping in the east boiler basement of the sodium processing building was color coded for easy identification. Orange indicates sodium and green identifies cooling water.
IDAHO FALLS, Idaho – An innovative idea for cleaning up sodium in a decommissioned nuclear reactor at EM's Idaho site grew from a carpool discussion.
The site shut down the Experimental Breeder Reactor-II (EBR-II), a sodium-cooled reactor, in 1994. Most of the sodium was drained and disposed, but small amounts remained in the reactor vessel and trapped in piping. Workers spread moist carbon dioxide through the system to passivate that residual elemental sodium, creating a powdery crust of sodium bicarbonate.
The Idaho Cleanup Project (ICP) was tasked with demolishing the reactor, but it first needed to safely dissolve that bicarbonate crust and treat and remove the sodium, a challenge shared by owners of sodium-cooled nuclear reactors around the world.
A team of engineers from the site's cleanup contractor, CH2M-WG, Idaho (CWI), was able to develop a treatment. Building on an idea discussed in the carpool, they developed a citric acid solution to break through the bicarbonate layer and react with the elemental sodium beneath it, rendering it harmless.
The team, which included several subcontractors, designed equipment to move thousands of gallons of the solution through the reactor and monitor progress with remote, high-speed and infrared cameras.
Their hard work paid off. The U.S. Patent and Trademark Office awarded patent 8,263,030, "Controlled In-situ Dissolution of an Alkali Metal." The treatment method can be used by projects throughout the world challenged by the difficult sodium.
The team thanked EM's Office of Deactivation & Decommissioning and Facilities Engineering (D&D/FE) for providing $1.7 million to the project.
"The reason we were able to do all the bench testing was because of funding from the Office of Environmental Management," CWI Engineer Jeff Jones said.
D&D/FE Director Andrew Szilagyi said innovations developed at the ICP will result in successful cleanup missions around the world.
"This sodium treatment research and development project contributed to the successful treatment and Resource Conservation and Recovery Act closure of EBR-II," Szilagyi said. "It also has sparked worldwide interest and attention from people facing similar challenges in other countries such as Great Britain, France and Germany."
CWI Engineer Kirk Dooley agreed.
"It's CWI's support of innovative thinking that allowed our team to take a complex problem and hammer away at it till a simple, elegant solution emerged," CWI Engineer Kirk Dooley said. "Millions of dollars, permit documentation and time were saved."
Szilagyi said the Idaho project's technologies and lessons learned will be shared at the international conference, Decommissioning Challenges, Industrial Reality and Prospects, in France in April.