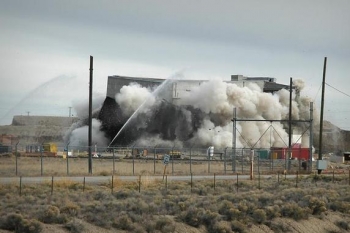 Workers demolish the Test Area North Hot Shop Complex, shown here.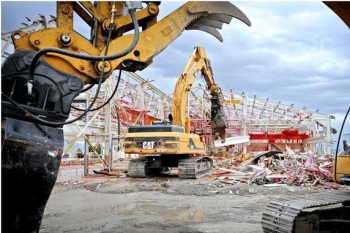 Crews demolish CPP-601, a building used during used nuclear fuel reprocessing at the Idaho Nuclear Technology and Engineering Center.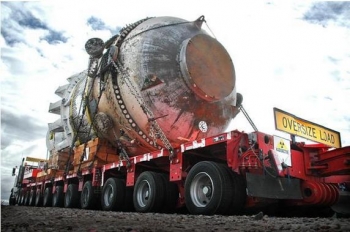 The Engineering Test Reactor vessel is shown here removed, loaded and ready for transport to the on-site landfill.
IDAHO FALLS, Idaho – The Idaho Cleanup Project (ICP) successfully closed out a $796 million nuclear facility decontamination and decommissioning project. The work was completed about $440 million under cost.
The project was officially declared complete earlier this fall when Deputy Secretary of Energy Daniel B. Poneman approved the Critical Decision–4. Achieving Critical Decision-4 is a significant step because it documents that the project completion criteria and key performance parameters were met.
Some facilities in the project were demolished more than four years ahead of schedule. In all, ICP safely decontaminated and decommissioned 171 buildings and structures at DOE's Idaho site.
"The project's cost and schedule performance was certainly impressive, but even more impressive was the project's safety performance," Federal Project Director R. Mark Shaw, who managed the project for the Department, said. "DOE's cleanup contractor, CH2M-WG, Idaho (CWI), did an incredible amount of work, and they not only did it ahead of schedule and under cost, but more importantly, they did it safely. I couldn't be happier about how this turned out."
Three nuclear reactors — the Engineering Test Reactor, the Power Burst Reactor, and the Materials Test Reactor — were decontaminated and decommissioned as part of the project. Initial plans called for the three reactor vessels to be disposed off site. However, DOE and CWI worked closely with the State of Idaho and the U.S. Environmental Protection Agency to develop a more cost effective plan with lower risk. As a result, the three reactor vessels were disposed on site at the Idaho Comprehensive Environmental Response, Compensation, and Liability Act Disposal Facility. This resulted in a large cost savings and protected the environment.
Another noteworthy project was the demolition of the Test Area North - 607 Hot Shop Complex. The 150,000-square-foot facility included a hot cell, spent nuclear fuel storage pool, warm shop, decontamination shop, and what at one time was the world's largest hot cell. The hot cell was a five-story reinforced concrete building with seven-foot-thick walls. The complex was safely demolished using a variety of techniques, from conventional heavy equipment to explosives. The project was completed at a cost of approximately $65 million — just over half the initial cost estimate for the project — and more than four years ahead of schedule.
At the Idaho Nuclear Technology and Engineering Center, the team demolished the CCP-601/640 Fuel Reprocessing Complex. This 150,000-square-foot structure had been used to reprocess spent nuclear fuel. It had five basement levels and two aboveground levels and contained dozens of processing cells, miles of piping and complex tank systems. The facility was stripped out, tanks and piping were removed, and 25,000 cubic yards of grout were pumped into the below-grade structure. This project was completed ahead of schedule and under cost.