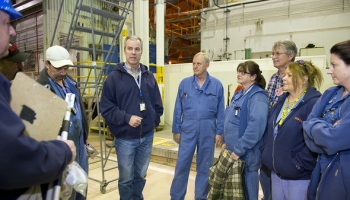 CWI employees discuss safety procedures before they remove a spent nuclear fuel shipment from a shipping container.
IDAHO FALLS, Idaho – For the second time in a little over a year, employees with DOE contractor CH2M-WG Idaho (CWI) supporting EM at the Idaho site have achieved 1 million hours without a recordable injury. They also worked more than 1.7 million hours without a lost work-time injury.
"Our focus is working with employees to keep each other safe," said CWI Environmental, Safety, and Health Vice President Kevin Daniels. "We purposely made a point of not letting employees know we were getting close to the million hours and did not advertise that there would be any rewards for getting there."
Due to the dedicated work of the employees to prevent injuries, 2012 was the company's safest year and the safety pinnacle for the cleanup program in its 24-year history.
CWI was awarded a 3-year, $730 million contract that runs from October 2012 to September 2015. Like its initial 7.4-year contract, the cleanup mission focuses on reducing risks to workers, the public, the environment and the Snake River Plain Aquifer.