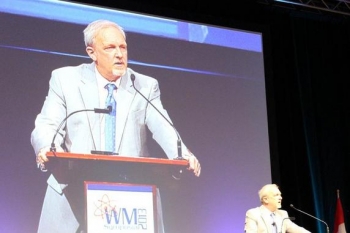 EM Senior Advisor Dave Huizenga speaks during the plenary session of the Waste Management Conference in Phoenix today.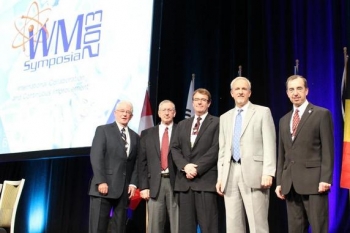 WM Symposia Board Chairman James Gallagher, left to right, U.S. Nuclear Regulatory Commission Member William Ostendorff, Natural Resources Canada Uranium & Radioactive Waste Division Director Dave McCauley, EM Senior Advisor Dave Huizenga and WM Symposia Board Member Fred Sheil gather for a photo at the Waste Management Conference.
PHOENIX – EM Senior Advisor Dave Huizenga shared many accomplishments of the nuclear cleanup program in a speech at the annual Waste Management Conference today, including recent news of its progress on the U.S. Government Accountability Office's (GAO) High-Risk List.
"The bulk of our projects are off the High-Risk List. You should all be proud of helping us get to this point," Huizenga said.
Huizenga spoke at the plenary session of the 39th annual international event that focuses on the management of radioactive materials and related topics and attracts more than 2,000 attendees from 40 countries.
GAO said it recognized progress on EM projects of $750 million or less and shifted the focus of EM's high-risk designation more to major contracts and projects greater than $750 million.
From 2010 to 2012, EM met its goal to complete at least 45 of the 50 cleanup capital asset projects that cost $750 million or less within 10 percent of their approved cost baselines. The total cost of the 50 cleanup projects was 18 percent below the baseline cost of $3,371 million.
In his speech, Huizenga also called attention to the numerous accomplishments at EM's field sites, such as the Waste Isolation Pilot Plant (WIPP) in New Mexico, which has received more than 11,000 shipments of transuranic waste from around the DOE complex.
"WIPP is a national asset that shows what we can achieve and what lessons we have learned about the disposal of nuclear waste," he said.
The Defense Waste Processing Facility at the Savannah River Site (SRS) in South Carolina celebrated an achievement, a fiscal year 2012 record-high production of 275 high-level waste canisters. Also, SRS closed two Cold War hazardous waste tanks, signifying a substantial environmental risk reduction achievement for South Carolina.
Dave McCauley, Director of Uranium & Radioactive Waste Division, Natural Resources Canada, and William Ostendorff, Commissioner, U.S. Nuclear Regulatory Commission, joined Huizenga as panelists in the plenary session.
Waste Management Symposium (WMS), which presents the conference, was founded to provide a forum for discussing and seeking cost-effective and environmentally responsible solutions to the safe management and disposition of radioactive waste and radioactive materials.
"EM and WMS have cooperated for many years. Having Dave Huizenga deliver one of the plenary speeches sets the stage for our entire conference week," said James Gallagher, Chairman of the Board of WM Symposia. "EM's challenge is massive and this provides Dave with the opportunity to acknowledge progress and define challenges. We are grateful for his participation."