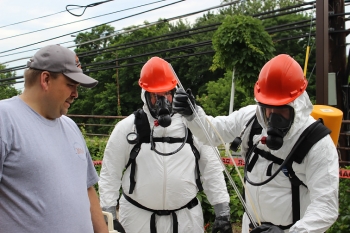 Trainer Randall Rickman, left to right, observes Larry Berg from EM's Safety, Security and Quality Programs office and Tony Pierpoint from DOE's Office of Independent Enterprise Assessments practice chemical sampling during Hazardous Waste Operations and Emergency Response initial training in Germantown, Md.
GERMANTOWN, Md. – EM's Office of Safety, Security and Quality Programs sponsored training for headquarters staff for nine days this month to help them better support the Cold War program's cleanup sites around the complex.
   Held in Germantown, Md., these Radiological Worker II and Hazardous Waste Operations and Emergency Response (HAZWOPER) training courses are required for individuals to enter radiological and hazardous waste areas at EM sites. Thirty-five participants signed up for the training in Germantown.
   "In the past, we've primarily offered refresher training," said Todd Lapointe, director of EM's Office of Safety Management. "This year, we wanted to give full courses so that new headquarters employees and mission personnel who make frequent site visits could hit the ground running when they travel."
   The courses in Germantown were taught by trainers from the Laborers' International Union of North America, and courses elsewhere across the DOE complex are taught by other unions at DOE sites. The trainers work on site and have hands-on experience in hazardous waste generation, removal, containment, transportation, or emergency response.
   The training is the same given to crane operators, carpenters, welders, construction workers, and others through the National Institute of Environmental Health Sciences Worker Education and Training Program, which has had an interagency agreement with DOE over the past 14 years. More than 10,000 DOE federal and contractor workers are trained annually at more than 30 sites, including Hanford, Oak Ridge, Savannah River, and Paducah.
   "The ability to take this course locally is a great convenience," said Jim Shuler from EM's Office of Packaging and Transportation. "It's been a long time since I've had a similar course, and things have changed, so taking this course will be beneficial to my work."
   The four courses include:
HAZWOPER initial training, a 40-hour course designed for workers involved in hazardous waste cleanup operations, emergency response operations, and storage, disposal, or treatment of hazardous substances. It covers hazard recognition, physical and chemical properties of hazardous materials, safety basic toxicology, decontamination procedures and practices, sampling, monitoring, material handling, introduction to chemical protective clothing, respiratory protection, site safety plans, and rights and responsibilities under the law. The instruction involves hands-on sessions and simulations of field operations.
HAZWOPER refresher training, a one-day course that reviews elements of the initial 40-hour training, lessons learned in worker health and safety in hazardous waste operations, and recent changes in regulatory requirements. It reviews information provided in a worker's initial course as well as new technologies, regulatory updates, and recent advancements.
Radiological Worker II training, a three-day course designed for personnel entering radiological areas and working with radioactive materials. The course covers radiation and its properties, sources of radiation exposure, health effects, radiological posting, personal protective equipment, radiation detection instruments, and personal dosimetry.
Radiological Worker II Challenge Exam, a one-day course for workers who have previously completed Radiological Worker II training to extend their certification by taking and passing the Radiological Worker II class exam and successfully demonstrating a protective clothing dress-out exercise.
 
   Employees from DOE's Office of Environment, Health, Safety and Security and Independent Enterprise Assessments also joined the four courses.