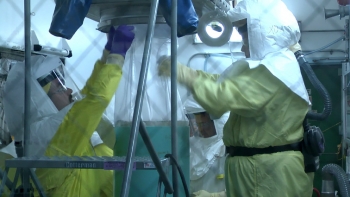 Workers "seal out" a pencil tank that had been cut into smaller segments and prepare it for shipment.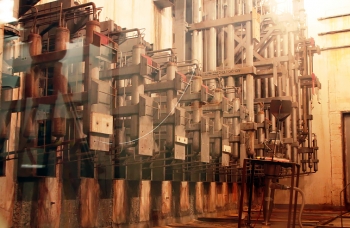 Workers are removing pencil tank units ranging in size from 3 to 25 feet long to help prepare the Plutonium Finishing Plant for demolition.
Workers Meet Performance Goal at Plutonium Finishing Plant
RICHLAND, Wash. – Safely and methodically, piece by piece, workers at the Hanford site's Plutonium Finishing Plant are surpassing goals for removing hazardous tanks once used in the plutonium production process.
   EM's Richland Operations Office and contractor CH2M HILL Plateau Remediation Company (CH2M HILL) are performing the delicate work of removing the tanks, which are referred to as "pencil tanks" because of their long, slender shape. Since Oct. 1, 2013, workers have removed 26 pencil tank units, exceeding an annual key performance goal of removing 25 by Sept. 30, 2014. EM sets key performance goals to track cleanup progress. There are 196 pencil tank units total; workers have removed 136 since 2008.
   "Removing these heavily contaminated tanks is an important step forward in cleaning out and demolishing the Plutonium Finishing Plant to reduce risk on the Hanford site," said Bryan Foley, deputy federal project director, Richland Operations Office. "We have a deadline of demolishing all of the buildings that make up the plant by the end of September 2016, and we intend to meet that deadline."
   The tanks range in size from 3 to 25 feet long and are housed vertically on the walls of a long and tall concrete-reinforced room, or canyon. The canyon is too contaminated to enter for long periods of time, so workers use the building's original remote-controlled crane to move the tanks from the canyon to a maintenance facility where workers manually cut the tanks up and prepare them for disposal. Crews at the plant are working from the inside out — decontaminating and removing process-related infrastructure like the pencil tanks and glove boxes, or getting them ready for removal during demolition — to make the plant safe for demolition.
   "Our team of talented workers has safely prepared more than 70 percent of the Plutonium Finishing Plant for demolition," said Mike Swartz, CH2M HILL Plutonium Finishing Plant Closure vice president. "Our continued focus on safe and compliant work will allow us to make further progress toward our goal of removing pencil tanks and other hazards from inside the plant so we can reach our goal of demolition in 2016."