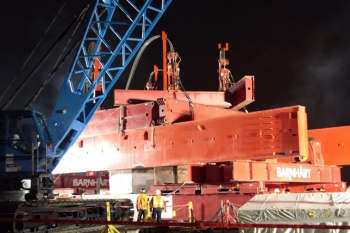 Washington Closure Hanford, the contractor managing the River Corridor Closure Project for the Richland Operations Office, leveraged subcontractor expertise and equipment to remove a 1,082-ton nuclear test reactor and dispose of it in an approved landfill. The reactor was the largest of Hanford's experimental reactors used for developing and testing alternative fuels for the commercial nuclear power industry in the 1960s.
Approximately 50% of subcontracts go to local small businesses
RICHLAND, Wash. – Contractors continue to exceed their small business goals by hiring subcontractors at the Hanford site.
   Working under the purview of EM's Richland Operations Office (RL) and Office of River Protection (ORP), Hanford contractors work diligently to support small business and strengthen small business partnerships.
   "Our contractors routinely demonstrate their commitment to our community's small businesses while meeting the significant challenges of cleaning up and maintaining the Hanford site," said RL Procurement Division Director Andy Wirkkala.
   From the beginning of each contract through the end of April 2014, Hanford contractors collectively have awarded a total of $8.9 billion in subcontracting work to small businesses, with almost 50 percent of that total going to local companies.
   During fiscal year 2013, Hanford prime contractors awarded $669 million in subcontracting work, with $228 million awarded to local small businesses. When expanded to include all of Washington and Oregon, the total subcontracting work going to small businesses increases to $418 million.
   Small businesses contribute greatly to the success of cleanup at Hanford and provide services, skills and materials that many Hanford contractors rely on to accomplish unique tasks. Small businesses provide a broad spectrum of talent and expertise that allows EM to do work safely, efficiently, and cost effectively.
   Hanford contractors working for RL include:
• Central Plateau contractor CH2M HILL Plateau Remediation Company, whose contract began in 2008;
• Mission Support contractor Mission Support Alliance, whose contract began in 2009; and
• River Corridor contractor Washington Closure Hanford, whose contract began in 2005.
   Hanford contractors under the purview of the ORP are:
• Waste Treatment and Immobilization Plant contractor Bechtel National, Inc., whose contract began in 2000; and
• Tank Operations contractor Washington River Protection Solutions, whose contract began in 2008.
   "Small businesses play a key role in Hanford's cleanup mission," said ORP Contracts and Property Management Division Director Marc McCusker. "Small businesses work in partnership with our Hanford prime contractors on a variety of projects to accomplish the work in a safe and cost-efficient way."
   EM and Hanford contractors remain committed to helping small businesses grow and positioning them for future success.