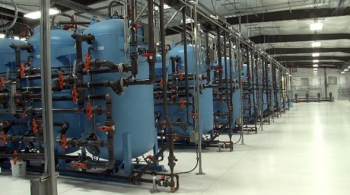 The interior of a pump-and-treat system along the Columbia River at the Hanford Site. With the push of a button, workers can now power the site's five systems along the river that are working to extract and treat contaminated groundwater.
RICHLAND, Wash. – Engineers and operators supporting the Richland Operations Office at the Hanford site found a way to start and stop groundwater treatment along the Columbia River with literally the push of a button.
"Our workers are constantly looking for ways to improve the way we do business. This new advancement helps us maximize our cleanup productivity," said Bob Popielarczyk, vice president of the soil and groundwater remediation project for EM-funded contractor CH2M HILL Plateau Remediation Company.
The engineers and operators found a way to control a series of groundwater treatment systems with one set of controls. Rather than turn on each machine — five systems tied to networks of wells across several miles — workers can power and monitor the systems at once. The systems can require powering up and down for maintenance activities and other events such as electrical outages.
A video with more information about the change and Hanford's overall groundwater treatment is available here.
The systems are one of several solutions in place to treat contaminated groundwater beneath the site. In Hanford's plutonium production era for the nation's defense, 450 billion gallons of liquids were discharged to the soil, resulting in large plumes of contamination deep in the soil.
Since 2008, workers have expanded the groundwater treatment capacity at Hanford by five times and treated nearly 4 billion gallons of contaminated groundwater.
For more about Hanford Site groundwater, including the Hanford Story Groundwater Chapter, click here and here.