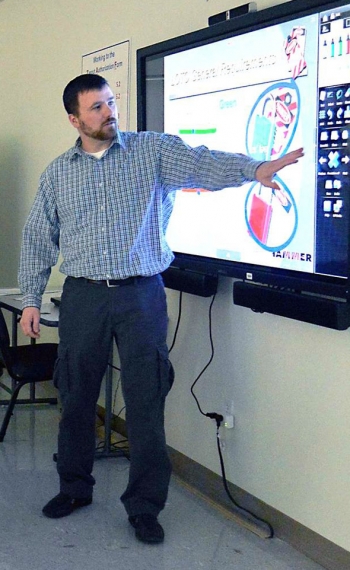 HAMMER instructor Michael Stordahl demonstrates the features available using a mondopad in a classroom.
RICHLAND, Wash. – EM's Richland Operations Office and contractor Mission Support Alliance (MSA) are leading the way to greener classrooms by developing a totally paperless class at the HAMMER Federal Training Facility at the Hanford site. MSA manages HAMMER on behalf of EM.
In 2013, Jim Whalley, an MSA instructional designer responsible for analyzing, designing, developing, and implementing training at HAMMER, looked at new technology resources available to see if he could electronically supplement or even alleviate paper training materials.
"It just made sense to ask the question, 'Do we need all these manuals, handouts, and checklists?'" said Whalley. "It also provided MSA an opportunity to pilot-test a new way of training."
Good for the Environment, Reduces Costs
Not only does going paperless in the classroom create a more active and hands-on experience, it also falls in line with EM's and MSA's initiatives to be good stewards of the environment.
"As HAMMER moves forward to incorporate new and innovative technologies into the classroom, the paperless concept has the ability to significantly reduce costs over the long run," said Ashley Morris, senior advisor for EM Hanford Site Sustainability. "Including sustainability concepts in classroom and field training activities makes more funding available for cleaning up Hanford and incorporates the Department's efforts to create a more sustainable environment."
The goal was to create interactive aids using technology to replace handouts and create a more hands-on learning experience. 
Now tablet computers house all the pertinent training materials. Students use e-book applications instead of paper manuals. Instructors use projectors to display materials on a classroom mondopad, an 80-inch board that instructors can manipulate using their hands, similar to cell phone and computer touchscreens.
To provide more visual feedback to students, HAMMER now can use a digital media player and videotape students in active hands-on activities using wireless technology. Instructors use a tablet computer to record training activities and play back the recorded footage on the mondopad to provide comprehensive feedback to students.
"Being able to design, develop, and implement a totally paperless class has given MSA the tools necessary for expanding its use to other classes we offer," said Whalley. "It certainly has us all actively exploring the technology out there that we were not using."