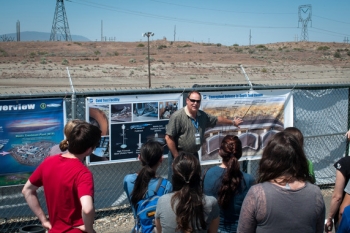 John Britton, with Office of River Protection contractor Washington River Protection Solutions, explains the Hanford tank waste program to Western Washington University students in a recent tour of the Hanford site.
RICHLAND, Wash. – It is harvest season for cherries, raspberries and rhubarb in Washington state. But employees at the Hanford site are helping grow the young minds of the nation's future science, technology, engineering and math (STEM) workforce.
Visiting students and faculty from the Northwest and beyond have an opportunity to learn about the site's history, current cleanup mission and future cleanup activities. They can also see real-world applications of the material they learn about in class by touring projects and facilities where the methods, technologies, and science associated with their class curriculum are being used in Hanford's cleanup mission.
"Our class of toxicology and environmental journalism students have been working this quarter modeling and documenting contaminated site cleanups," said Rebekah Green, a Western Washington University instructor. "What better place to bring these students than Hanford, where they can see an ongoing cleanup process steeped in a complex social and technical context?"
Instructors and students have the opportunity to tour areas like the Cold Test Facility, Environmental Restoration Disposal Facility, Plutonium Finishing Plant, 200-West Area Groundwater Pump and Treat project and the popular B Reactor National Historic Landmark. The budding scholars are also exposed to career opportunities at DOE.
A class of Oregon State University students was the first to request a site visit in 2009.  Since then, students from Washington State University, the University of Washington, Willamette University, Whitman College, Bellingham Technical College, Yakima Valley Community College, University of Idaho, University of Montana, Portland State University and Heritage University have all taken site tours.
Sometimes Hanford even takes the show on the road to the students. Employees have acted as guest lecturers at universities, high schools and middle schools through the Hanford Speakers Bureau since visiting Whitworth University in 2010.
Another EM site, the Moab Uranium Mill Tailings Remedial Action Project in Utah, is a popular destination for universities. Some students come from as far away as the United Kingdom to see the Moab project's 16-million-ton tailings pile, groundwater remediation system and other tour highlights.