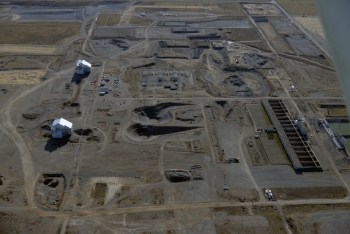 An aerial view of Hanford's D Area shows the D Reactor (lower left) and DR Reactor. Workers are digging 85 feet to groundwater at two sites there to remove chromium contamination.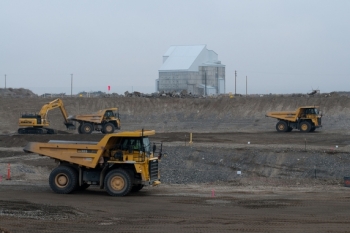 Workers remove soil contaminated with sodium dichromate to prevent the chemical from reaching the groundwater and eventually the Columbia River.
RICHLAND, Wash. – Workers at the Hanford site are digging deep into several waste sites near the Columbia River to remove soil contaminated with chromium.
The work is part of the River Corridor Closure Project, one of the largest environmental cleanup projects in the nation, managed by EM and its contractor, Washington Closure Hanford.
In Hanford's D Area, where D and DR reactors once operated, cleanup involves digging two holes 85 feet deep. Workers began excavating one waste site in December 2012 and will start digging another this spring. The digs are part of a $12.3 million subcontract awarded to TerranearPMC to remove an estimated 2.5 million tons of waste material from the D, DR and H reactor areas. Work at the site is expected to be completed by the end of 2014.
"Remediation of the deep soil contamination removes the source of groundwater contamination and will significantly reduce lifecycle costs for groundwater treatment operations," River Corridor Federal Project Director Mark French said.
An estimated 750,000 tons of material will be excavated from each area, half of which is expected to be contaminated. That contaminated material will be trucked to Hanford's Environmental Restoration Disposal Facility for permanent disposal.
"Removing the chromium contamination is essential to preventing it from reaching the groundwater and Columbia River," said Carol Johnson, Washington Closure president.
Workers created an initial hole to determine the extent of the contamination. It showed green and yellow staining — an indication of chromium — at 15 feet, 30 feet and finally at 50 feet.
The hole being dug is similar to an open-pit mine, wider at the top (about seven football fields in area) with gradually sloped sides — steeper slopes about halfway down — to prevent cave-ins. Lifts or layers of 15 to 18 feet have safety shelves to catch falling rocks, and soil samples are collected along the sides. The hole will be reduced to the size of about one football field at the bottom.
The contamination is the result of sodium dichromate leaked or spilled during reactor operations between the 1940s and 1960s. The reactors were placed into long-term storage, a process known as "cocooning," several years ago.
Sodium dichromate was added to the cooling water for the reactors to prevent corrosion of the piping system. Large quantities of the chemical were transported to the reactor areas by rail cars or truck tank cars and distributed by underground piping.
Workers recently completed a similar excavation project near C Reactor, the first time a deep dig was performed at Hanford. Lessons learned are applied to the D Area project to increase efficiency.
"The River Corridor presents many risks and hazards," Johnson said. "We are now 87 percent complete with our work, and we've reached this point because of a team of exceptional employees who are dedicated to working safely and efficiently."