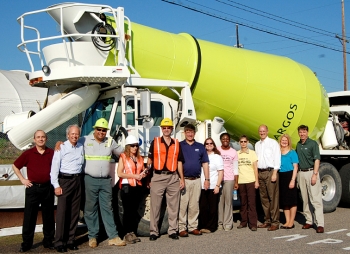 DOE and Savannah River Remediation team members gather in front of the first cement truck containing grout for Tank 18 at the Savannah River Site.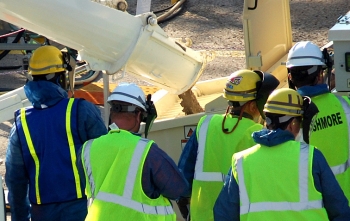 A specially formulated grout was poured into a hopper and transferred through lines to Tank 19.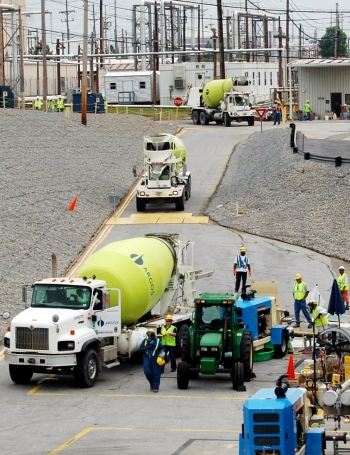 The first cement truck with the specially formulated grout arrives at the Savannah River Site earlier this month.
AIKEN, S.C. – April marked the start of work to close two massive underground tanks at the Savannah River Site (SRS) by filling them with a cement-like material to ensure they pose little or no future risk to the environment or the public.
The start of grouting culminates 32 years of waste removal and cleaning operations in the tanks, each of which originally held 1.3 million gallons of radioactive hazardous waste. Tanks 18 and 19 will be the first tank closures at SRS since 1997, when two were closed.
Across the EM complex, there are more than 240 underground waste storage tanks containing 90 million gallons of radioactive liquid waste generated by EM's Cold War legacy cleanup mission. The capacity of the tanks varies from 30,000 gallons to 1.3 million gallons. DOE has closed 13 of the tanks, including the two closed at SRS in 1997.
At SRS, grouting of Tanks 18 and 19, ancillary piping and equipment will continue until late summer, before the tanks are confirmed closed. Six cement trucks operating eight hours a day, five days a week, provide the grout to fill the tanks.
Dr. David Moody, DOE Savannah River Manager, said the start of grouting is a significant achievement in the disposition of the site's legacy nuclear waste.
"Eliminating the risk of radioactive legacy nuclear waste is a priority and the start of grouting of these tanks is significant to meeting our critical mission," Moody said.
Dave Olson, president and project manager of Savannah River Remediation, the SRS liquid waste contractor, said grouting the tanks will eliminate risk for workers and the environment.
"DOE and SRR are committed to protecting workers, the public, and the environment while achieving risk reduction in a cost effective manner, and in compliance with regulatory commitments," Olson said. "Many years and a lot of safe operations will result in Tanks 18 and 19 being operationally closed this summer."
Tanks 18 and 19 were built in the late 1950s and previously held waste from nuclear weapons production at SRS. Removal of waste from the tanks began in the 1980s. They are among the many nuclear facilities constructed at SRS to support the Cold War effort.
"Closing Tanks 18 and 19 is a big step forward in reducing the risk posed by legacy high-level waste at SRS, and I'm very proud to be a part of the outstanding team that's responsible for this accomplishment," said Terry Spears, Assistant Manager for Waste Disposition Project.