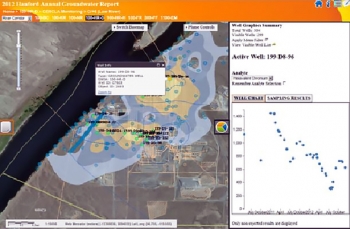 A screenshot of Hanford's online groundwater monitoring annual report.
RICHLAND, Wash. – EM's Richland Operations Office (RL) has moved its 1,200-page annual report on groundwater monitoring to a fully online and interactive web application.
The application allows users to access expert interpretation of groundwater conditions and trends for each of the Hanford site's 12 groundwater interest areas. Users can access the typical content of the paper-based report but can also explore all supporting data using an intuitive map-based interface.
Groundwater monitoring is conducted to meet requirements of the DOE, U.S Environmental Protection Agency and State of Washington. The monitoring supports the major cleanup effort to treat contaminated groundwater at Hanford. In July, RL and its contractor, CH2M HILL Plateau Remediation Company (CH2M HILL), exceeded this year's goal for treating 1.4 billion gallons of contaminated groundwater. The contamination resulted from operations to produce plutonium from the 1940s through the 1980s.
The innovative reporting application is a joint effort of RL, CH2M HILL and the Pacific Northwest National Laboratory (PNNL). The online annual report application is built upon PNNL's Hanford Online Environmental Information Exchange (PHOENIX) platform. Through this successful collaboration, the online report was developed and successfully implemented on schedule this past August. It enables the annual groundwater data from Hanford to be analyzed and presented in a timely and cost effective manner.
In addition, the online report provides live, web-based access to the groundwater data rather than just a static paper presentation. In the months ahead, improvements to the online application based on user comments are scheduled.
The online annual report application is available here and PHOENIX is available here.