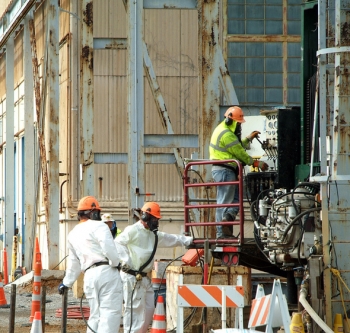 Workers drill holes for installation of electrodes as part of a heating system to help clean up contamination.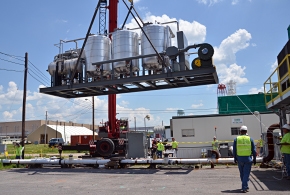 A crane lifts the carbon treatment system into place. This technology treats vapor pumped to the surface by the belowground heating system.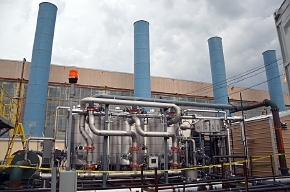 The belowground heating system operates in front of the C-400 Cleaning Building.
PADUCAH, Ky. – A belowground heating system is helping to clean up the leading source of groundwater contamination at EM's Paducah Gaseous Diffusion Plant site.
The electrical resistance heating (ERH) system features 52 borings, each with three 10-foot-long metal electrodes that heat soil to more than 194 degrees Fahrenheit to evaporate the degreaser trichloroethene (TCE) that seeped into the ground over the years.
Vapor and water are then pumped to the surface and treated using carbon filtration, which is commonly used to adsorb volatile organic compounds, and air stripping, which uses airflow to remove substances from water through volatilization.
EM cleanup contractor LATA Environmental Services of Kentucky began operating the system in July. The system will operate six to nine months to remove TCE at depths of about 20 to 60 feet below the ground surface southeast of the C-400 Cleaning Building in the center of the site's fenced area.
The project is important for cleaning up contamination by removing a primary source of TCE near the cleaning building, where past leaks and spills occurred until TCE use was banned at the site in 1993.
"We continue to make progress at the site," said DOE Project Manager Dave Dollins. "Addressing the contaminated groundwater is one of our top priorities."
To date, DOE has used ERH to remove approximately 2,600 gallons of TCE in groundwater in the cleaning building area.
Other belowground components in the system include 33 vapor and groundwater extraction wells, 29 temperature-monitoring borings and 15 locations to monitor vacuum levels across the treatment area.