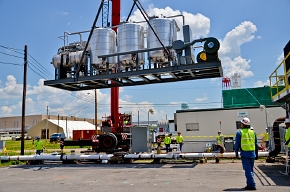 A crane lowers the carbon treatment system into place during construction.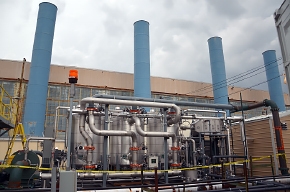 The treatment system operates in front of the C-400 Cleaning Building.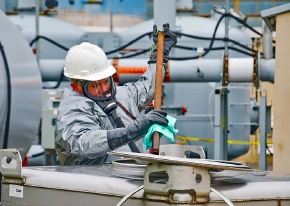 Andy Harris moves the VOC transfer hose from one tank to the next while wearing a supplied-air breathing apparatus.
PADUCAH, Ky. – Belowground heating technology is helping to clean up the leading source of groundwater contamination at EM's Paducah Gaseous Diffusion Plant site.
Since last summer, electrical resistance heating has removed nearly 1,000 gallons of volatile organic compounds (VOCs) that seeped into the ground over the years near a building where machinery and equipment were once cleaned. VOCs include trichloroethene (TCE), a common degreaser at the site until its use was banned at Paducah in 1993.
"TCE is the chief groundwater contaminant at the site," said EM Project Manager Dave Dollins. "Successful treatment of TCE in the vicinity of the cleaning building is essential to our cleanup efforts."
The site's cleanup contractor LATA Environmental Services of Kentucky (LATA Kentucky) began operating the heating system in July 2013 to remove VOCs about 20 to 60 feet below ground near the cleaning building, in the center of the site's fenced area. VOC extraction is currently projected for successful completion by September 2014.
The system features 52 borings, each with three 10-foot-long electrodes that heat soil to remove contamination. Vapor and water are pumped to the surface and treated using carbon filtration, commonly used to remove VOCs.
Other belowground components in the system include 33 vapor and groundwater extraction wells, 29 temperature-monitoring borings, and 15 locations to monitor vacuum levels across the treatment area.
Mechanical issues, many related to freezing temperatures starting in early November, kept the system from being fully operational until January of this year. Despite unseasonably low temperatures, the system has remained operational, recovering VOCs more than 95 percent of the time since a Jan. 14 restart. A target average temperature of 194 degrees was attained March 20.
LATA Kentucky managers and staff demonstrated pride and dedication in getting the system to an operational status that maximized productivity while reducing costs through automation, said Kelly Layne, groundwater project manager for the company.
"Specifically, our site supervisors and operators have come to work at all hours of the day and night to address system shutdowns in an effort to meet reliability goals and support the cleanup mission," Layne said.
As the system extracts VOCs from the vapor and liquid phases, the VOCs are collected in a liquid state as part of the overall system. The liquids are moved periodically to an on-site waste storage facility pending transfer for recycling or disposal.
Electrical resistance heating was used twice previously, in 2003 and 2010, to remove a total of about 2,400 gallons of VOCs from other underground areas near the cleaning building.