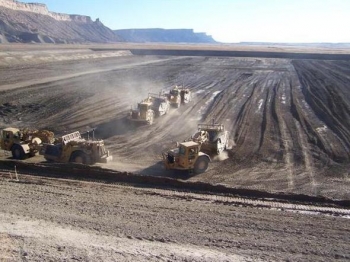 Scrapers excavate the Crescent Junction disposal cell 25 feet below ground surface.
In a report released earlier this year, the U.S. Government Accountability Office (GAO) said it recognized progress on EM projects of $750 million or less and was shifting the focus of EM's high-risk designation more to major contracts and projects greater than $750 million. This progress is evident at several EM sites.
In 2009, workers completed significant infrastructure construction at EM's Moab site at a cost of about $39.3 million, under the estimated budget of $40.7 million, and within schedule.
The Moab Uranium Mill Tailings Remediation Action Project work at the Moab and Crescent Junction sites in Utah prepared handling and removal systems for the tailings and their permanent storage in an engineered disposal cell. Workers installed a 21-mile, 6-inch buried waterline from the Green River to the Crescent Junction site and excavated the first disposal cell phase, encompassing about 45 acres.
Since fiscal year 2010, Oak Ridge's EM program has completed 13 capital projects of $750 million or less, one-fourth of the projects completed in the EM complex during that time. The site completed the projects within 10 percent of the approved baseline, with actual costs averaging 18 percent less than the approved baseline.
"We emphasize continual improvement, both in our stewardship of tax dollars and in our ability to complete cleanup projects on time and on schedule," Oak Ridge EM Manager Mark Whitney said. "During the past several years, we have taken measures to enhance our ability to accomplish that, and I think the results are very telling."
Oak Ridge reorganized into a project-centric, classic matrix organization aligned with EM's program mission, which has improved its ability to deliver projects on time and within budget. Oak Ridge's Integrated Project Teams are actively engaged in the execution of projects and identify and resolve issues such as realized project risks.
Monthly project reviews are another noteworthy practice because they keep Oak Ridge senior managers apprised of project status. The reviews ensure issues are addressed early to avoid impact to cost and schedule. Oak Ridge also draws on experts outside the program to assist with cost estimating and scheduling to improve upfront planning and baseline development.
The Idaho site recently completed major capital asset projects on or under budget.
The Idaho Nuclear Facility Decontamination & Decommissioning Project performed exceptionally over its five-year life. The $796 million project was completed a year ahead of schedule and $440 million under cost. The project team maintained outstanding relationships with stakeholders, allowing the project to pursue risk-informed solutions that reduced technical and project risk, improved safety and ensured regulatory compliance and innovative waste management practices that significantly reduced waste disposal and transportation costs.
The site's Soils and Water Remediation Project's originally cost $741 million. It was completed on schedule at a final cost of $548 million. By implementing a lessons learned approach for each of the six exhumation areas — from design of the retrieval enclosures and drum packaging stations to construction — the project was able to save $193 million.
The Paducah site recently completed demolition of the C-340 Metals Complex, one of the most contaminated buildings on site. Workers finished the project two months ahead of schedule and under cost.
"EM's improved performance and resulting upgrade in GAO assessment was made possible by EM personnel at every level of the program who took steps to ensure the proper implementation of already existing contract and project management guidance and policies," EM Deputy Assistant Secretary for Acquisition and Project Management Jack Surash said.
EM headquarters and site employees issued appropriately constructed contracts for given work scope, offered contractors incentives to out-perform contract provisions, improved the federal technical and oversight workforce and proceeded with construction only after designs were sufficiently mature and technologies effectively understood.
EM continues to develop better relationships among headquarters and site management, federal project personnel and contractors to foster an atmosphere of timely and constant communication and attentiveness to address EM's unique portfolio of projects.