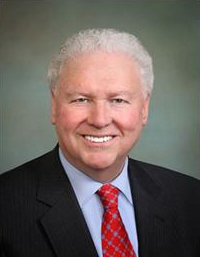 Thomas P. Grumbly considers his role as EM Assistant Secretary the best job he ever had. He served in the position from 1993 to 1996.
WASHINGTON, D.C. – In an occasional EM Update series, we feature interviews with former EM Assistant Secretaries to reflect on their achievements and challenges in the world's largest nuclear cleanup and to discuss endeavors in life after EM.
Thomas P. Grumbly has more than 30 years of experience serving as a federal employee and government contractor. In 1993, he began serving as EM's Assistant Secretary and went on to become the Under Secretary of Energy. Later, he joined Lockheed Martin's Washington Operations.
What are you doing currently for your professional work?
I serve as the vice president for civil government programs at Lockheed Martin's Washington Operations. In this position, I am responsible for maintaining all of the outreach to Congress and Executive Branch senior levels for all of the agencies that we do business with other than the Department of Defense and the intelligence world.
Where do you live?
I live in Vienna, Va.
How do you view your term as the EM Assistant Secretary?
The best job I ever had! I was fortunate to come in after EM had been fully formed at the beginning of the Clinton administration. It was a very exciting time to try to take an organization that had been put together and to start making it really work and work on all cylinders. It was a very exciting opportunity that also gave me access to the Secretary, White House and Congress. I found it very stimulating and rewarding, but difficult.
How has your experience as the EM Assistant Secretary helped you in subsequent endeavors?
I went on to become the Under Secretary, so it helped me climb the ladder. It also helped me establish my reputation, which I hope still continues as someone who can work pretty much with anyone and who is respected for being able to translate technical issues into things that ordinary people can understand. That has helped me a lot in my endeavors. It's not a flashy job though. You don't get invited to many fancy cocktail parties. It's not for anyone who wants to be a show horse. It's a job for someone who wants to be a work horse.
Did you take any interesting trips while you were EM Assistant Secretary?
The first time you go to the Hanford site and you see the initial reactor that Enrico Fermi put together, that is awfully impressive and it kind of gives you the chills because that was the beginning of the nuclear age. When you see all of the reactors stretched along the banks of the Columbia River in Washington state for the first time, and just recognize the enormity of the efforts that the U.S. undertook during World War II, you just can't help but be impressed by the magnitude of the endeavor and the amount of work that these tens of thousands of people did in a very short period of time when they thought the state of the country was at stake.
Do you have any personal accomplishments that you would like to talk about?
I am very proud of the fact that I won, after I left office, the Secretary of State Distinguished Honor Award for the work that I did in returning nuclear material to the U.S.