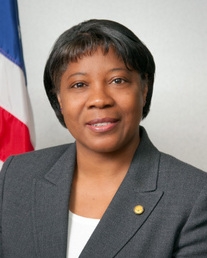 Former EM Assistant Secretary Jessie Roberson now serves on the Defense Nuclear Facilities Safety Board.
Editor's note: In an occasional EM Update series, we feature interviews with former EM Assistant Secretaries to reflect on their achievements and challenges in the world's largest nuclear cleanup and to discuss endeavors in life after EM.
"It's one of those jobs where you're running at 100 miles per hour," said Jessie Roberson, a former EM Assistant Secretary.
The current Defense Nuclear Facilities Safety Board (DNFSB) vice chairwoman was nominated by former President George W. Bush to lead EM in 2001 and served in that capacity for three years.
Roberson said the job was challenging but also rewarding.
"The politics do matter," the nuclear engineer said.
Social, economic, political and technical considerations must be taken into account when EM is completing its cleanup mission, Roberson said. She stressed the importance of communicating effectively with team members involved in the cleanup.
Roberson said she was able to work with incredibly bright people, and she learned how important it was to "respect all views."
"I have a lot of confidence in the technical folks there," she said. "I know the capabilities of the people, and when you give them opportunities to shine they demonstrate they know how to reduce liabilities for the government and the public."
Overall, the Alabama native views her time at EM positively.
"I gave my all when I was there," she said. Roberson focused on setting a path to complete EM's cleanup mission, and she is proud that course hasn't faded away.
Roberson said she benefited from experience gained by working at DOE program offices and field sites. Previously, she worked as Savannah River Site and became the manager of Rocky Flats Field Office in 1996. In 1999, former President Bill Clinton nominated her to the DNFSB. President Barack Obama nominated her to serve in her current capacity as a member of the Board. Roberson has over 30 years of nuclear engineering experience.
Roberson says she's healthier now and wiser. She is also proud of her daughter, Jessica, who Roberson says is "a woman of her own." Jessica Roberson is a Penn State graduate and an economist.