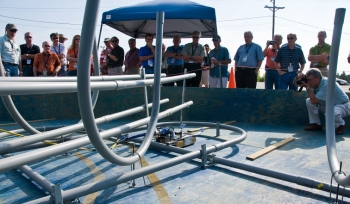 EM's Office of D&D and Facility Engineering is preparing a five-year strategic plan to include key areas such as robotic and remote system development. EM has employed robots such as Tizzy, shown here, which removed high-level solid radioactive material from underground waste tanks. Photographers and other admirers watch as Tizzy readies for a mission of nuclear waste removal at the Savannah River Site.
WASHINGTON, D.C. – Leaders from EM headquarters and field offices and the UK's Sellafield nuclear site gathered recently to discuss developing technologies needed to address decommissioning challenges across the Cold War cleanup program.
   Staff from EM's Office of Deactivation & Decommissioning (D&D) and Facility Engineering and several senior managers and prime contractors from the Savannah River, West Valley, Idaho, Hanford, and Oak Ridge sites identified key areas for the basis of a five-year technology development strategic plan for D&D:
Improved characterization tools and techniques to better locate, identify, quantify, and map radioactivity levels;
Robotic and remote system development to enable safe D&D, including decontamination   of highly contaminated facilities;
Improved decontamination technologies and techniques; and
Use of facility mock-ups to demonstrate, prove, and troubleshoot innovative technologies.
The EM team was joined by three senior decommissioning staff members from the Sellafield site who shared lessons learned from their decommissioning program and discussed current technology development and demonstration activities in the UK. Meeting with these representatives helped ensure the proposed EM efforts do not duplicate existing work in the UK.
   "This has been an excellent opportunity to network with the staff members who have decommissioning challenges in the field," Office of D&D and Facility Engineering Director Andrew Szilagyi said. "Their knowledge, experience, and insight will assist my office in developing and implementing a focused, robust, and innovative program to benefit site decommissioning activities in the short- and long-term and result in a more effective cleanup program overall."
   A detailed plan is scheduled to be issued later this year for developing and deploying the technologies needed by the field offices to accomplish safer, faster, and more cost-effective cleanup.
   The work proposed in the plan will build on and complement current initiatives, including a review of commercially available remote systems and their applications to current Office of D&D and Facility Engineering needs, and the EM Robot Challenge, an initiative to give robotic companies an opportunity to demonstrate their systems in a number of simulated scenarios representative of actual site conditions.