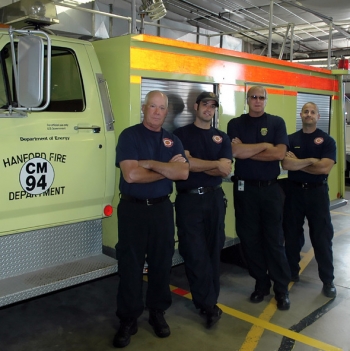 Hanford firefighters stand next to the 31-year-old chemical truck. Pictured, left to right, are Hanford Fire Lt. Robert Smith, Firefighter/Paramedic Kyle Harbert, Firefighter Don Blackburn and Capt. Sean Barajas.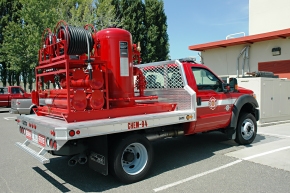 One of two of the Hanford Fire Department's new chemical trucks.
RICHLAND, Wash. – Last year, the Hanford Fire Department (HFD) set out to replace its aging chemical truck used for metal fires. Originally purchased to respond to potential incidents at the Fast Flux Test Facility, the 31-year-old vehicle was at the end of its lifecycle.
HFD learned that instead of buying a factory-built truck, it could procure two chemical skid-mounted units for about $80,000 and then mount the equipment on smaller trucks, saving approximately $325,000.
"Having two more chem trucks increases our fire extinguishing capabilities for metal fires dramatically, while saving the taxpayer a considerable amount of money," said Hanford Fire Chief Jeff Hawkins.
Funded by DOE, HFD provides life safety services at the 586-square-mile Hanford site in support of the safe and timely cleanup of the site. Services include fire suppression and prevention; medical and rescue response; incident command; and hazardous materials, chemical, biological, and radiological emergency response.
Better known in firefighter lingo as a "chem" truck, its main purpose is to put out Class D fires, or combustible metal fires. Magnesium and titanium are the most common types of metal fires, but they also include elements like liquid sodium and metal shavings leftover from plutonium production.
Chem trucks use a dry powder extinguishing agent and work by smothering and heat absorption. Water, which is the common extinguishing agent on most fire trucks, cannot be used effectively on a Class D fire. If water were applied to a combustible metal fire, it would accelerate the burning and add the potential for steam and hydrogen reactions and explosions, ultimately increasing the risk to a fire crew.
HFD staff is being trained on the new chem truck apparatuses.