A truck carries a waste shipment from Brookhaven National Laboratory in New York. EM completed legacy cleanup activities at the site last year.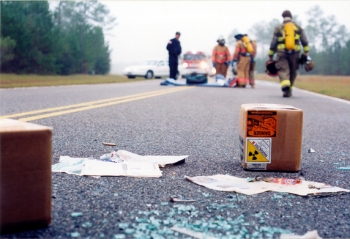 Emergency responders participate in a training exercise in the Transportation Emergency Preparedness Program (TEPP), which also recently released its annual report. Administered by EM's Office of Packaging and Transportation, TEPP ensures federal, state, tribal and local responders have access to the plans, training and technical assistance necessary to safely, efficiently and effectively respond to radiological transportation accidents.
WASHINGTON, D.C. – EM's Office of Packaging and Transportation (OPT) recently released its annual report for fiscal year 2012, highlighting more than 13,000 hazardous material shipments across almost 6 million miles. EM made about three-fourths of those shipments.
OPT provides tools, guidance, support and oversight to assure shipments of radioactive and other hazardous materials are carefully planned, tracked, safe, secure, timely and efficient.
OPT offers centralized support and expertise for the Department's packaging and transportation activities that cannot be provided through a site-by-site, ad-hoc approach. OPT seeks opportunities for cost savings and leverages Departmental resources. As a result, sites reduce operating expenses associated with packaging and transportation activities, allowing them to apply more funds to other mission support needs.
The following are major OPT accomplishments detailed in the report:
Resolved Departmental transportation issues: Coordinated with the Energy Facility Contractors Group to identify inconsistencies in radiation survey requirements at shipping and receiving sites;
 
Reduced transportation costs: Collaborated with the General Services Administration to align the Department's transportation and traffic management activities with other federal agencies;
 
Lowered shipment costs: Negotiated lower transportation rates with carriers; and
 
Received DOE honors: OPT Packaging Certification Program staff were recognized by the Secretary's Honor Award Program for contributions to the Argonne National Laboratory Nuclear Footprint Reduction and Deactivation Plan.