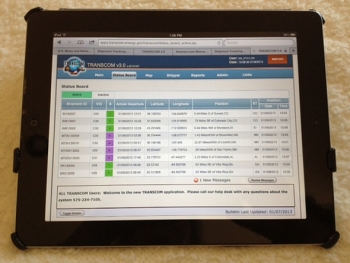 Transportation Tracking and Communication System users can now track shipments of radioactive materials and access transportation information on mobile devices.
CARLSBAD, N.M. – EM's Carlsbad Field Office (CBFO) recently deployed a new version of the Transportation Tracking and Communication System (TRANSCOM) that is compatible with mobile devices, including smartphones.
The recent enhancement, TRANSCOM version 3.0, improves the user interface and adds many new features. The result of a two-year effort, its implementation marks a significant achievement for DOE.
In operation since 1992, TRANSCOM is the transportation monitoring and communication system used to track the movement of radioactive material shipments for DOE and the U.S. National Nuclear Security Administration (NNSA). DOE developed TRANSCOM to track DOE shipments of high visibility radioactive materials and to maintain communication with the drivers as a public safeguard. Trucks that transport defense-related legacy transuranic (TRU) waste to the Waste Isolation Pilot Plant for permanent disposal are monitored by this system. TRANSCOM is a secure site that requires multiple layers of authentication, including identification names and passwords for individual users.
With a demonstrated reliability — it has a 99 percent up-and-running, or "uptime" rate — and available on the Web since 2001, the system has been an important tool for states, tribes and federal agencies.
Monitored shipments include defense-related legacy TRU waste, spent nuclear fuel and foreign research reactor fuel. More than 22,000 DOE shipments have been tracked.
The MaChis Lower-Creek Indian Tribe, contracted to operate and maintain TRANSCOM for DOE, operates the system's communication center 24 hours a day, seven days a week. 
Sharon Taylor, MaChis' TRANSCOM project manager, said DOE and MaChis listened to stakeholders and designed the system upgrade following input from stakeholders at annual TRANSCOM users' group meetings.
Transportation protocol requires that states be notified prior to a shipment entering their jurisdiction.
"TRANSCOM 3.0 will allow law enforcement and other professionals to receive secure notifications and real-time shipment information on their mobile devices," Taylor said.
In addition to mobile devices, TRANSCOM 3.0 offers other features, including the ability to create and to quickly assign geo-fenced routes, which provide for virtual boundaries. Additional features are new mapping tools, multi-mode, two-way communication that automatically switches between terrestrial and satellite, in-depth shipment reporting, event alerts and a streamlined user interface.
Want to know more about TRANSCOM?  See the EM fact sheet on this topic here.