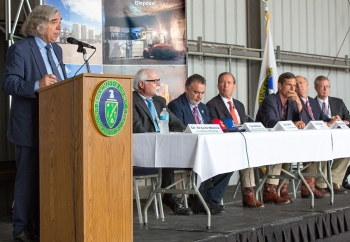 Employees from CBFO, associated DOE contractors and laboratories, elected officials, WIPP stakeholders, and leaders from New Mexico communities attended a meeting at WIPP where the Secretary (at podium) addressed the group and answered questions. Seated from left: DOE Deputy Under Secretary for Management and Performance David Klaus; Franco; U.S. Sens. Tom Udall and Martin Heinrich (N.M.); U.S. Rep. Steve Pearce (N.M.); and Bob McQuinn, president and project manager of Nuclear Waste Partnership (NWP), the WIPP management and operating contractor.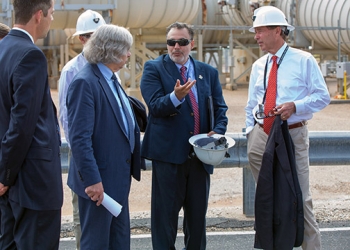 The Secretary (second from left) discusses the ventilation system at WIPP with Franco (center) and Udall (right). EM Acting Assistant Secretary Mark Whitney is on the far left.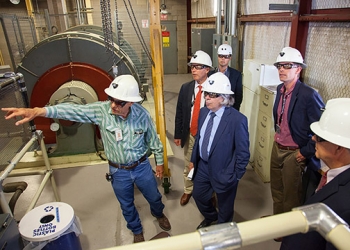 Norm Siepel of NWP explains salt hoist operations to the Secretary (center, foreground); Udall (second from left); Heinrich (second from right); Pearce; and Jonathan Black of Udall's office (far background).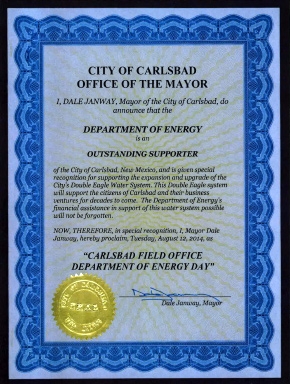 Carlsbad Mayor Dale Janway proclaimed Aug. 12, 2014 "Carlsbad Field Office Department of Energy Day" in recognition of the DOE's support of the city's Double Eagle Water System, which will provide additional water for the expanding city. "I'm proud of the work you do and the support you continue to provide to the city, the nation, and the world," CBFO Manager Joe Franco told employees. "I very much appreciate your hard work, dedication, and perseverance as we move forward through our Waste Isolation Pilot Plant recovery phase."
Carlsbad, NM - Energy Secretary Ernest Moniz accepts special recognition on behalf of DOE for support of the expansion and upgrade to Carlsbad's Double Eagle Water System from Mayor Dale Janway (right) at a town hall-style meeting this month. In the background are Carlsbad city counselors Janell Whitlock, Wesley Carter, and Jason Shirley. Recognizing the need for more potable water for a growing Carlsbad, the city years ago purchased the system from a water cooperative. The system will serve as a secondary source of water for residents.