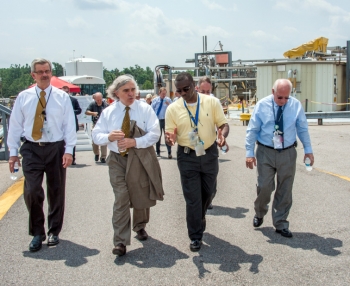 From left, Dr. Terry Michalske, director of EM's Savannah River National Laboratory and executive vice president of Savannah River Nuclear Solutions, Energy Secretary Ernest Moniz, Savannah River Waste Disposition Operations Director Phillip Giles, and Savannah River Operations Office Manager David Moody are pictured walking at H Tank Farm.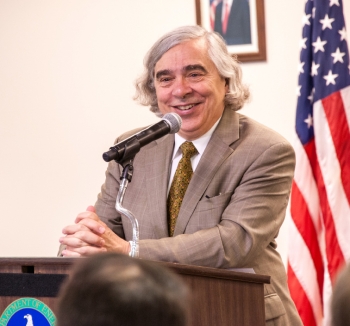 The Secretary speaks with site employees at an all-hands meeting during his visit to SRS.
AIKEN, S.C. – Energy Secretary Ernest Moniz recently visited the Savannah River Site (SRS), where he toured facilities, spoke with the site's workforce, and met with stakeholders from surrounding communities in South Carolina and Georgia.   
   South Carolina Gov. Nikki Haley, U.S. Sens. Lindsey Graham (S.C.) and Tim Scott (S.C.), and U.S. Rep. Joe Wilson (S.C.) joined Moniz as he addressed the workforce. The Secretary thanked the delegation for its continued leadership and commended site employees for their dedication and contributions supporting U.S. defense programs and environmental cleanup progress.
   "For over six decades, you have built a legacy of global leadership in nuclear science and engineering. Your motto is 'We Deliver,' and you have," Moniz said. "You have successfully created a strong culture of safety here while continuing to make important contributions that support our nation's defense and environmental quality, as well as innovative energy technologies."
The Secretary talked with employees as he visited the K Area Plutonium Storage, the Mixed Oxide Fuel Fabrication construction site, Defense Waste Processing Facility, H Tank Farm, H Canyon, and Savannah River National Laboratory's Energy Materials Research Center.
   His visit ended at a community forum with local elected officials and community leaders. Participants discussed the site's priorities and role in national security, environmental stewardship, and clean energy.
   DOE Under Secretary for Nuclear Security and NNSA Administrator Lt. Gen. Frank Klotz accompanied the Secretary on the visit.