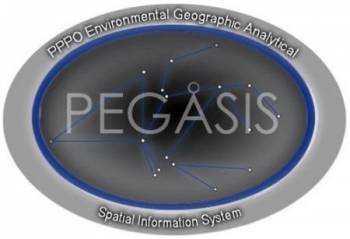 EM's Paducah site launched a new geographic mapping tool that provides environmental sampling data for use by the public on the Internet.
PADUCAH, Ky. – Environmental sampling data at EM's Paducah site is now accessible to the public through an enhanced geographic mapping tool on the Internet.
Officially launched in October, the dynamic tool known as PEGASIS consists of an external Geographic Information System (GIS) and analytical data viewer that allow government regulatory agencies and the greater public to view Paducah site data previously attainable only through a formal Freedom of Information Act request. PEGASIS is an acronym for the Lexington-based DOE Portsmouth-Paducah Project Office's (PPPO) Environmental Geographic Analytical Spatial Information System.
"PEGASIS promotes open government by allowing users to log into the system anonymously," said Derek Mikesell, manager of Information Technology and Communications for LATA Environmental Services of Kentucky, EM's cleanup contractor at Paducah.
The user interface and display tools for PEGASIS are the result of input from various stakeholders, including EM and its contracting staff, regulatory agencies and members of the public.
The tool offers access to information such as publicly available environmental documents, groundwater level data, analytical data and well and borehole development at Paducah. PEGASIS is available via www.latakentucky.com, the website of LATA Kentucky. Go to the GIS section and click on PEGASIS to access it.
Similar information is being developed for EM's Portsmouth, Ohio, site and will be accessible via the website of cleanup contractor Fluor-B&W. The LATA Kentucky and Fluor-B&W sites will be linked to the PPPO website for access to PEGASIS.
The Kentucky Research Consortium for Energy and Environment (KRCEE) pioneered the Paducah Data Warehouse system — the forerunner to PEGASIS — several years ago for the Paducah site. Developers pulled base code from the Paducah Data Warehouse system to reuse in PEGASIS.
"Significant cost savings were achieved by reusing existing code whenever possible," Mikesell said.