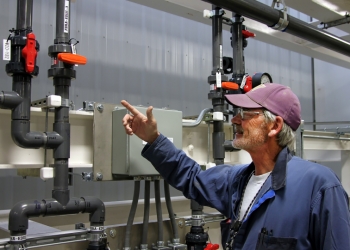 Soil and Groundwater Remediation Project Pipefitter John Reynolds explains some of the modifications he helped make at the 200 West Pump and Treat System that increased its water treatment capability.
RICHLAND, Wash. – Workers with CH2M HILL Plateau Remediation Company (CH2M HILL), a cleanup contractor supporting EM's Richland Operations Office (RL), continue to enhance and expand capabilities of a facility that treats legacy contamination at the Hanford site.
   From its first day of operations in 2012, Hanford's 200 West Pump and Treat System has been a model for efficiency and sustainability, earning Gold Certification by Leadership for Energy and Environmental Design for energy savings, water efficiency, emissions reduction, and indoor air quality.
   "The contractor and its employees continue to find ways to enhance the efficiency and sustainability of groundwater treatment systems on the Hanford Site," said RL's Hanford Groundwater Remediation Senior Technical Advisor John Morse. "These improvements make us better stewards of our resources as we do this important work to clean up our groundwater and protect the Columbia River, which flows through the Hanford Site."
   CH2M HILL Soil & Groundwater Remediation Vice President Mark Cherry said the 200 West facility has been an enormous success, treating more than 65 million gallons of contaminated groundwater per month.
   "But our workforce saw an opportunity to raise the bar even higher, saving valuable natural resources while increasing treatment capacity," he said.
   Until recently, the groundwater treatment facility near the center of the site used site service water, or treated water, in part of its process to treat contaminated water pumped from the ground. In March 2014, workers implemented design changes to allow the plant to use its own treated groundwater instead of site service water. The modification reduces the amount of water injected into the ground, allowing 42 million more gallons of groundwater to be extracted for treatment each year.
   The 200 West system is one of the largest plants in the DOE complex that treats radiologically contaminated groundwater. The system combines several technologies to address multiple contaminants in 5 square miles of groundwater beneath Hanford's Central Plateau. It's capable of removing more types of radioactive and chemical contaminants than any other system of its kind in the DOE complex.