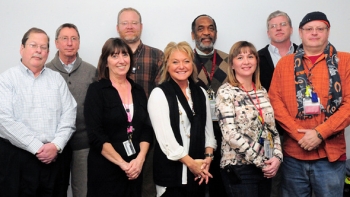 Pictured are members of the Portsmouth Site Sustainability Team, including, left to right, Joe Moore, Bob Anderson, Stephanie Puckett, Matt Vick, Lisa Burns, Vince Adams, Stephanie McLaughlin, Frank Johnston, and Ron Shelato. Team members Roger Steckel, Russell McCallister, Roger Coats, Jeff Stone, and Mandy Mayo are not shown.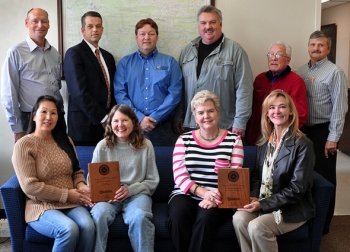 Oak Ridge's East Tennessee Technology Park award team is shown, front row, left to right, Veronica Hoffman, Betsy Brucken, Sherree Shaw, and Traci Hempen-Potter; back row, left to right, Jim McCague, Mark Whitney, Chuck Oldham, Moose Erickson, Leo Sain and Richard Frounfelker.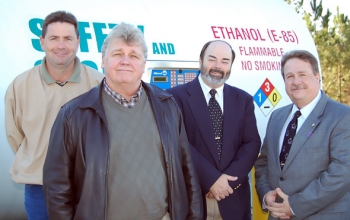 Pictured are members of the SRS Green Fleet Team, including, left to right, Kevin Heath, Tim Armstrong, Chris Goodman, and Dave Hepner. Team member Pete Ladomirak is not shown.
WASHINGTON, D.C. – In this second part of a two-part series, EM Update focuses on three of five DOE 2013 Sustainability Awards EM received for its efforts in comprehensive greenhouse gas emissions management, waste reduction, pollution prevention, and fleet management at the Portsmouth, Oak Ridge, and Savannah River (SRS) sites.
The annual awards program highlights DOE achievements that saved taxpayer money by reducing the Department's use of energy, water, and paper while improving the energy efficiency of government buildings and vehicles. All of EM's award-winning projects cut hundreds of thousands of tons of carbon emissions, lowered energy use, diverted thousands of metric tons of construction and demolition debris, allowed for more efficient fleets, and provided cost savings. These efforts helped EM exceed sustainability commitments and improve its operations.
The Portsmouth site achieved a 29-percent reduction in greenhouse gas emissions in fiscal year 2012 by creating a culture of energy saving and sustainability now incorporated into how the site performs daily activities. This reduction exceeded DOE's Strategic Sustainability Performance Plan target to reduce greenhouse gas emissions by 28 percent by fiscal year 2020.
Specific actions taken to drive Portsmouth's success include the creation of a site-wide sustainability team; training and awareness; comprehensive energy audits; implementation of energy conservation measures; reduction of electric-use intensity by 41 percent; procurement of 12,500 megawatt hours of green power from biomass, a plant-based material that serves as a renewable energy source; and replacement of vehicles that use petroleum with alternative-fueled vehicles.
Additionally, replacing a 1950s-era, coal-fired boiler with a new natural gas fired boiler was one of the most significant actions to reduce greenhouse gas emissions. The new boiler's projected annual cost savings are $2.2 million. It reduces carbon dioxide emissions by about 61 percent.
The Oak Ridge Environmental Management System program promotes opportunities to minimize waste, energy use, and greenhouse gases. The program also makes environmentally preferable purchases and finds opportunities to divert waste.
By integrating pollution-prevention practices into work procedures and processes, Oak Ridge's East Tennessee Technology Park successfully diverted about 8,100 metric tons metric tons of construction and demolition waste in fiscal year 2012. Reuse of rubble saved landfill space and diverted about 7,200 metric tons from disposal.
Oak Ridge's Waste Disposition Operations Project reused 2,900 concrete shielding blocks from the transuranic (TRU) waste storage facility as shielding at the TRU Waste Processing Center. This resulted in the diversion of over 84,000 pounds of material from disposal. Diversion solves a waste disposition problem for one project while saving time and money for another. Waste reuse at Oak Ridge has resulted in project efficiency and cost savings.
The SRS green fleet management program supports sustainability goals by using alternative fuels and reducing petroleum use. Approximately 77 percent of vehicles in the light duty fleet, which includes vehicles that transport employees, use an ethanol fuel blend or are gasoline hybrids. SRS reduced its fleet petroleum use by approximately 19 percent and is on track to meet the overall goal requirement of 30 percent by fiscal year 2020.
Savannah River Nuclear Solutions, the site management and operations contractor, cut its fleet by 201 vehicles, exceeding its goal of a 35-percent reduction in three years. SRS's Green Fleet Program's efforts to ensure sustainable, effective site transportation services were worthy of recognition.
Last month's issue of the newsletter reported on EM's overall sustainability progress and highlighted individuals at Oak Ridge and SRS who were honored with DOE 2013 Sustainability Awards.