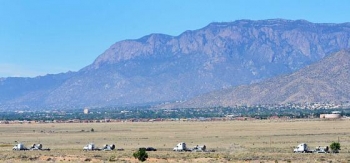 Four trucks carrying the last scheduled shipment of transuranic waste from Sandia National Laboratories leave Sandia Wednesday, headed to DOE's Waste Isolation Pilot Plant near Carlsbad, N.M. for safe, permanent disposal.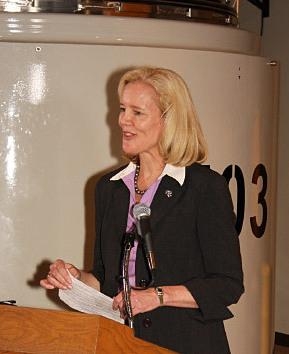 EM Principal Deputy Assistant Secretary Tracy Mustin speaks during the Sandia National Laboratories celebration Wednesday marking the completion of transuranic waste cleanup at the Lab.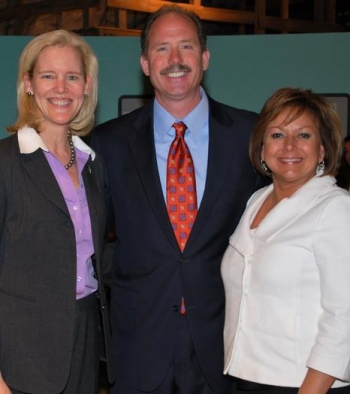 EM Principal Deputy Assistant Secretary Tracy Mustin, left to right, Albuquerque Mayor Richard Berry, and New Mexico Gov. Susana Martinez were among the speakers at the ceremony Wednesday.
ALBUQUERQUE, N.M. – EM Principal Deputy Assistant Secretary Tracy Mustin joined other DOE officials and local and state leaders Wednesday to celebrate the completion of the Cold War legacy waste cleanup at Sandia National Laboratories.
"The State of New Mexico and the Department of Energy share a common vision of keeping people and our environment safe," Mustin said at the event. "This final shipment of legacy remote-handled transuranic (TRU) waste from Sandia National Laboratories represents important and continued progress in DOE's commitment to reducing the nation's nuclear waste footprint by cleanup of EM sites across the complex."
Mustin and others participants in the ceremony watched the four trucks carrying the last shipments of remote-handled TRU waste leave Sandia en route to the Waste Isolation Pilot Plant (WIPP) for safe, permanent disposal. A byproduct of the nuclear defense program research and weapons production, TRU waste consists of materials contaminated with radioactive elements that have atomic numbers greater than uranium. Much of the waste removed from Sandia came from programs completed in the 1980s.
The cleanup of all legacy TRU waste at Sandia marks a milestone in EM's $6 billion American Recovery and Reinvestment Act Program. Recovery Act funds accelerated the cleanup of defense-related TRU waste at Sandia and seven other small-quantity sites across the DOE complex, including the Nuclear Radiation Development, LLC (NRD) site near Grand Island, N.Y, and the Lawrence Berkeley National Laboratory in Berkeley, Calif. Launched in 2011, Sandia's remote-handled TRU waste shipment campaign was supported by $1.6 million from the Recovery Act.
Wednesday's ceremony focused on the last of eight shipments of remote-handled TRU waste that began last year. In the past, contact-handled TRU waste from Sandia had been sent to Idaho's Advanced Mixed Waste Treatment Project for characterization and certification prior to final shipment to WIPP.
Mustin was among several speakers who included New Mexico Gov. Susana Martinez and Albuquerque Mayor Richard Berry. National Nuclear Security Administration (NNSA) Sandia Site Office Manager Geoff Beausoleil and Carlsbad Field Office Manager Joe Franco also gave remarks. Speakers applauded the collaborative effort by Sandia, EM, DOE, WIPP and NNSA that led to the TRU waste cleanup achievement at Sandia.
At Sandia, the Tech Area 5 Auxiliary Hot Cell Facility, a small, heavily shielded concrete box, was established specifically to process and disposition legacy nuclear material and waste. A crane brought waste materials into the cell through a roof door. Crew members examined the waste material through thick, leaded windows, and used glove box-style manipulator arms to examine the material and take samples.
Sandia was the 22nd site in the U.S. to complete cleanup of legacy TRU waste, an accomplishment that helps reduce the Cold War footprint and supports DOE's goal to dispose of 90 percent of legacy TRU waste by 2015. In addition to NRD and Lawrence Berkeley National Laboratory, other sites that completed TRU cleanup include Argonne National Laboratory in Illinois and the General Electric Vallecitos Nuclear Center in California.
Established in the 1940s for nuclear weapons development, testing, and assembly, Sandia is now a multi-program laboratory operated and managed by Sandia Corporation for NNSA. With its main facilities in Albuquerque and Livermore, Calif., Sandia has major research and development responsibilities in national security, energy and environmental technologies, and economic competitiveness.