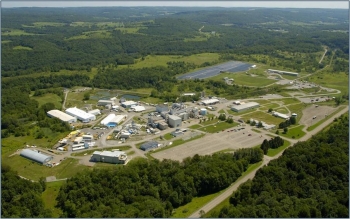 An aerial view of the West Valley Demonstration Project.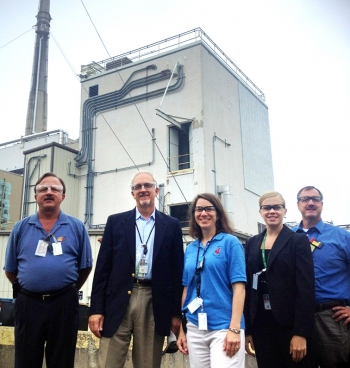 Pictured during a tour of WVDP, left to right, are EM Deputy Assistant Secretary for Acquisition and Project Management Jack Surash, Senior Advisor for Environmental Management David Huizenga, WVDP Operations Manager Catherine Bohan, EM Public Participation Specialist Elizabeth Schmitt and WVDP Director Bryan Bower.
WEST VALLEY, N.Y. – Senior Advisor for Environmental Management David Huizenga commended employees at the West Valley Demonstration Project (WVDP) for safely and successfully managing the decommissioning of the only commercial spent nuclear fuel reprocessing facility that had operated in the United States during his recent visit to the site.
Huizenga noted that while the risks to public health and safety have been greatly diminished by the solidification of the liquid high-level waste (HLW) from the facility, the challenges of safely decontaminating and demolishing the highly contaminated old reprocessing plant require ongoing engineering rigor and safety focus.
In his tour of WVDP facilities, Huizenga viewed the canisters of vitrified HLW through the 4-foot-thick shield window in the old reprocessing plant. A contract was awarded in July 2012 to remove the canisters and place them in shielded casks for on-site storage, a precursor to decontaminating and demolishing the plant. This will be the first use of multipurpose canister technology for storage of HLW and will require innovative engineering and operations to remove, decontaminate and place the canisters in the casks.
Another innovative project along the tour route, the permeable treatment wall, demonstrates WVDP's commitment to sustainability. The 860-foot-long wall of zeolite was installed in the ground in 2010 to capture the contaminant known as strontium-90, which has been migrating in the groundwater from a piping leak that occurred during the 1960s reprocessing operations. It is a passive mitigation system with minimum maintenance and waste generation. Analytical data from the system of monitoring wells in and around the wall demonstrate that the system is working.
During his visit to western New York, Huizenga joined WVDP Director Bryan Bower for a meeting with leaders from the Seneca Nation of Indians to listen to and address their concerns regarding cleanup at WVDP, specifically the groundwater plume contaminated by the strontium-90. Portions of the plume located beyond the zeolite wall may impact the Cattaraugus Creek, which has great significance to the Seneca and travels through their territory.
The Seneca have a longstanding cooperative agreement with EM that facilitates tribal engagement in activities at the site. Seneca Council members Todd Gates, Llona LeRoy, Richard Nephew and Nikki Seneca expressed interest in visiting WVDP and reaffirmed the tribe's desire to see continued funding and support for the site's cleanup mission.