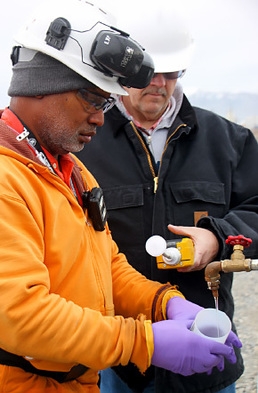 Workers sample a well used to monitor groundwater at the Hanford site.
Workers separate a glove box for removal from Hanford's Plutonium Finishing Plant.
RICHLAND, Wash. – EM's Richland Operations Office's 2013 accomplishments ranged from cleaning up buildings and waste sites to treating a record amount of groundwater. Following are Hanford site achievements this year:
In August, EM and its contractors at the Hanford site in southeast Washington state celebrated an achievement that continues to build on their success in cleaning up hundreds of buildings and waste sites in a 220-square-mile area along the Columbia River. Site employees reached 15 million tons of contaminated material disposed of in the site's Environmental Restoration Disposal Facility, operated by contractor Washington Closure Hanford. Removing contaminated material and providing for its safe disposal prevents contaminants from reaching groundwater and the Columbia River, which flows through the site.
Below the surface at Hanford, the Richland Operations Office and contractor CH2M HILL Plateau Remediation Company met several of the Department's key performance goals for protecting groundwater in 2013, including:

Treating groundwater to remove 220 kilograms of chromium;
Treating groundwater to remove 1,600 kilograms of carbon tetrachloride; and
Treating a record 1.4 billion gallons in the first nine months of the year.
Those and other treatment activities are shrinking the areas of contaminated groundwater, particularly along the Columbia River. They also support the Department's goal to restore groundwater so that it is protective of human health and the environment.
In the center of the Site, where decades of complex and challenging work is under way, one of the most hazardous facilities on the site — the Plutonium Finishing Plant — is nearing the final stretch of cleanup. Workers have demolished 55 of the plant's 81 facilities. In 2013, workers moved personnel out of the major plant facilities in preparation for demolition of the largest remaining structures in the next two years. Crews are cleaning out and removing equipment — called "glove boxes" — used during the production era to safely handle plutonium and other materials. They have removed 85 percent of the 238 glove boxes to date, including 18 since March. The culmination of this important work will be demolition of all of the plant's facilities in 2016.