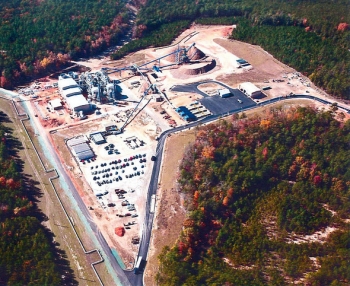 The highly-efficient, biomass-fired cogeneration facility at the Savannah River Site replaced a 1950s-era coal-fired plant and will result in significantly reduced pollutant emissions, including a reduction of 100,000 metric tons per year of carbon dioxide emissions.
WASHINGTON, D.C. – EM's clean energy contributions helped DOE achieve a number of successes in the latest Sustainability and Energy Scorecards for federal agencies released by the Office of Management and Budget.
The scorecards serve as an important benchmark to see where DOE has been successful in achieving sustainability goals, reducing emissions, cutting costs and identifying opportunities for improvement. They also help the Department track the best opportunities to lead by example in clean energy and hold DOE accountable for meeting annual energy, water, pollution and waste reduction targets.
In the past year, DOE achieved a number of important successes in its efforts to promote clean energy and reduce waste and greenhouse gas emissions. EM was highlighted for some of the largest contributions, including the biomass cogeneration facility at Savannah River Site. The project will produce up to 20 megawatts of clean energy, avoid more than 100,000 tons of greenhouse gas emissions each year (equivalent to emissions from 20,800 cars) and save $35 million in energy and operations and maintenance costs annually. The new facility is a major contributor to the Department's achievement of its energy intensity and renewable energy goals.
Although EM's petroleum use climbed, due to an increased level of activity in recent years, DOE's overall use dropped by 8 percent in fiscal year 2012 relative to the fiscal year 2005 baseline and represents a 3 percent improvement from fiscal year 2011. While this progress did not allow DOE to meet the target, the reduction is significant considering DOE's often energy intensive mission activities, such as EM's waste vitrification at the Savannah River Site in South Carolina. As these activities wind down, EM and the Department as a whole should see a marked reduction in petroleum use.
There is progress in many areas as well as the need for improvements. EM will make significant progress in decommissioning and demolishing inefficient, excess facilities and strive to make its enduring building stock more energy efficient and sustainable.
Based on benchmarks in the fiscal year 2012 scorecard, EM and DOE will update their annual Sustainability Performance Plans to continue building on accomplishments and find additional ways to exceed clean energy goals.