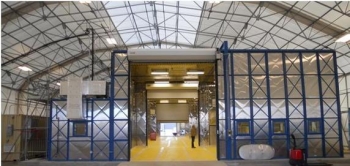 A view of the new facility where transuranic waste will be repackaged at Los Alamos National Laboratory.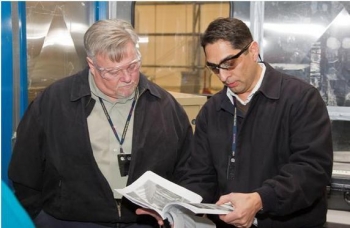 EM Deputy Assistant Secretary for Waste Management Frank Marcinowski, left, talks with LANL's Oversized Container Disposition Project Manager Mike Romero while on a tour of the 375 box line facility in late February.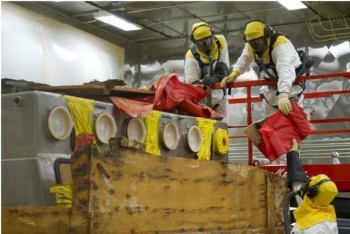 Workers process the first box of waste in the new facility.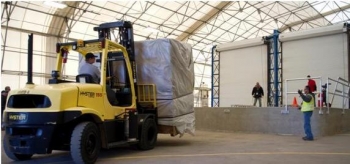 A worker transports the first box of waste to be repackaged at the 375 box line facility.
LOS ALAMOS, N.M. – EM has added another facility to its arsenal of waste repackaging capabilities at Los Alamos National Laboratory (LANL).
The 375 box line facility, a key component to the LANL TRU Waste Program's ability to repackage transuranic (TRU) waste stored in large boxes, received its first box of waste for repackaging this week. The program now has three box lines operational for waste repackaging.
"This new repackaging facility will allow us to disposition even greater volumes of TRU waste during the coming months," said Pete Maggiore, Assistant Manager for Environmental Operations at the National Nuclear Security Administration's Los Alamos Field Office.
Built inside a waste storage dome, the facility is the largest Perma-Con ever built. A Perma-Con is a modular structure typically used for radiological or hazardous containment. The facility will be used to size reduce and repackage waste — mostly old equipment stored in fiberglass-reinforced plywood boxes — for shipment to the Waste Isolation Pilot Plant for permanent disposal. 
"Our team worked diligently to complete this project despite a number of challenges," said LANL TRU Program Deputy Director Steve Clemmons, who oversaw much of the work.
The record-setting structure is 110 feet long by 48 feet wide.
"We had to build a structure big enough to accommodate these old waste boxes, some of which are 40 feet long," said Jeff Mousseau, Associate Director of Environmental Programs at LANL. "These are the largest, most contaminated boxes of waste, and this facility will give us the capability to repackage them safely."
The facility is part of an effort to accelerate removal of 3,706 cubic meters of combustible TRU waste stored above ground at the Laboratory. The Las Conchas fire in 2011 came within 3-1/2 miles of the area where the waste was stored and led to an agreement between the New Mexico Environment Department and DOE to remove the waste stored above ground at the Laboratory by June 30, 2014.
In the first year of the accelerated work, Los Alamos shattered its shipping records with over 230 waste shipments resulting in the disposition of 920 cubic meters of TRU waste.