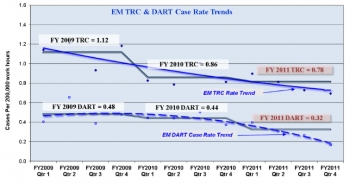 This figure shows the downward trends of EM TRC and DART case rates for the last three fiscal years. These three years correspond to the time of substantial increase in work activities in support of the American Recovery and Reinvestment Act.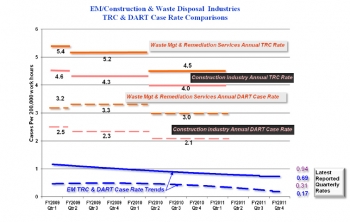 EM's TRC and DART case cumulative rate trend lines over the past 15 quarters remain well below comparable industries' TRC and DART Case rates. For benchmark comparison, the Construction Industry and the Waste Management & Remediation Service Industry numbers are selected to best approximate the complex-wide decontamination and decommissioning (D&D), remediation, waste management and facility construction activities contracted by EM
WASHINGTON, D.C. – The EM Office of Safety and Security Program conducts analysis of EM-wide safety performance on a quarterly basis to provide senior management a tool to compare and evaluate performance and identify emergent trends and make performance comparisons between sites and contractors of varying size and risk.
Occupational injury and illness performance is measured using two metrics defined by the Occupational Safety and Health Administration (OSHA) and widely used in industry. One of these metrics is the Total Recordable Injury Cases (TRCs) rate. TRCs are cases that require medical treatment for occupational injuries beyond first aid.
The other metric is the Days Away from work – Restricted or Transferred (DART) case rate. DARTs are TRCs that are typically more serious than medical treatment only. DART cases involve days away from work, days of restricted work activity, or require a worker to be transferred to another position.
Following are EM's cumulative rates for fiscal year 2011: TRC rate of 0.78 per 200,000 work hours and DART case rate of 0.32 per 200,000 work hours. These rates are significantly below the EM safety performance goals for fiscal year 2011 (TRC goal of 1.3; DART goal of 0.6). The charts below are from the Fourth Quarter Fiscal Year 2011 EM Quarterly Safety Summary Report.