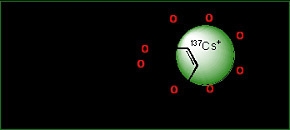 The "MaxCalix" solvent improves the process for removing Cesium-137 from radioactive waste solutions.
AIKEN, S.C. – For the Savannah River National Laboratory (SRNL), successful deployment is the ultimate validation of science and technology's value to the EM program.
In 2013, EM and its Savannah River Site (SRS) liquid waste contractor, Savannah River Remediation (SRR), deployed a Next Generation Solvent in a radioactive cesium extraction process. This marked the latest advancement that SRNL and a team of partners — including other national laboratories and contractors — have made in applying research and development to the EM program. At SRS alone, this Next Generation Solvent is expected to improve the waste processing mission by 30 percent, saving an estimated $1.35 billion.
In a modified centrifuge, the solvent attracts cesium, allowing waste to be separated into two forms — a decontaminated salt stream and a dilute acid stream containing the cesium. The cesium stream is ultimately stabilized in glass; by improving the characteristics of the solvent being used, researchers have provided a tool to make the process work better and faster. SRR began successfully deploying the solvent this month, replacing an earlier generation of laboratory-developed solvent.
Earlier work on the technology won a national Collaboration award from the U.S. Council for Chemical Research. The council recognized the partnership for progress from fundamental research all the way to plant construction and successful operation.
"This represents success on multiple levels," SRNL Associate Laboratory Director for Environmental Management Dr. Jeff Griffin said. "It shows how science and the contractor community can partner for the ultimate success and efficiency of the program. It gives us a tool that can potentially be applied much more broadly to EM challenges. And, ultimately, this cuts down significantly on the time it takes to empty waste tanks, and assures that much less radioactivity will remain at the Savannah River Site. We believe it's one of the central examples of how the laboratory community brings value to the EM mission, and it's been a very satisfying collaboration."