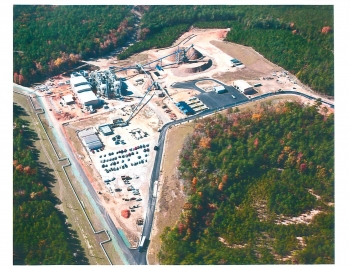 A view of the biomass-fired cogeneration facility at the Savannah River Site.
WASHINGTON, D.C. – EM has been a leader in the use of performance-based contracts to reduce energy and water use and develop onsite renewable energy sources.
Performance-based contracts identify expected deliverables, performance measures and outcomes and make payment contingent on their successful achievement. They employ techniques, such as consequences and incentives, to ensure that the agreed-upon value to the federal agency is received.
EM has excelled in the use of Energy-Savings Performance Contracts (ESPCs), performance-based contracts that leverage private sector funding. The ESPC is a partnership between a federal agency and an energy service company. Under this type of contract, the company conducts a comprehensive energy audit and identifies improvements to save energy. In consultation with the federal agency, the company designs and constructs a project that meets the agency's needs and arranges the necessary funding.  The company guarantees the improvements will generate operational cost savings sufficient to pay for the project over the term of the contract. After the contract ends, all additional cost savings are retained by the agency.
EM's use of ESPCs at the Hanford site in 2008 and 2009 improved energy efficiency of heating, ventilation and air conditioning systems and will result in nearly $2 million savings annually for at least 25 years.
EM's use of ESPCs at the Savannah River Site enabled replacement of several old coal- and oil-fired boilers with new biomass-fueled boilers, including a 20-megawatt electric and 240,000-pound-per-hour, high-pressure steam cogeneration facility. The biomass fuel is primarily wood (a renewable resource), much of it from on site. The new highly-efficient, biomass-fired cogeneration facility replaces a 1950s-era coal-fired plant and will result in significantly reduced pollutant emissions, including a reduction of 100,000 metric tons per year of carbon dioxide emissions. The new facility also will reduce water and energy consumption and lower operating and maintenance costs.
The ESPC for the biomass cogeneration facility and two smaller biomass-fired steam plants was the largest ESPC — at $795 million — to date for renewable energy. First-year guaranteed savings are $34 million. By providing up to 30 percent of the site's electricity, the new cogeneration facility is making a substantial contribution to achieving DOE's renewable energy goals.
EM's aging facilities and goals to reduce operating costs may present opportunities for additional ESPCs, as well as Utility Energy Service Contracts (UESC), another type of performance-based contract mechanism. UESCs are agreements that allow utilities to make energy-related improvements to federal facilities and can include utility-arranged funding. Costs are repaid over the contract term from resulting cost savings.
In December 2011, President Obama signed a memorandum to federal agencies that emphasizes the agencies' responsibility to lead by example, reduce energy use, and operate buildings efficiently. The memorandum calls on agencies to leverage private and public sector funding to invest in comprehensive energy conservation projects to cut energy costs. It also sets a minimum government-wide goal of $2 billion in new performance-based contracts for federal building energy efficiency within 24 months.