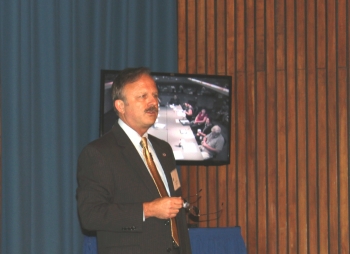 EM's first Business Opportunity Forum takes place 1 to 3 p.m. Sept. 4 at DOE's Forrestal Building in Washington, D.C.
WASHINGTON, D.C. – EM will host its first quarterly public forum to discuss upcoming business opportunities in the legacy nuclear cleanup program with contractors.
   The Business Opportunity Forum will take place 1 to 3 p.m. Sept. 4 in the Large Auditorium, Room GE-086 of the Forrestal Building at 1000 Independence Ave, SW, Washington, D.C., 20585.
   Organized by EM's Office of Acquisition and Project Management, the outreach event gives companies the chance to learn the latest news on doing business with EM and participate in dialogue about the program's business opportunities.
   There is no charge to attend. Pre-registration is required by providing your name, title, company name, and citizenship to EM's Carol Ward via e-mail at carol.ward@em.doe.gov by Sept. 2, 2014.
   The forum is limited to 50 participants, with only one representative per business. Send questions to EM's John Evett at john.evett@em.doe.gov.
   EM plans to host the forum approximately each quarter. Topics will focus on how DOE is improving its acquisition and contract management and the status of ongoing and upcoming procurement opportunities.
   For more information, click here.