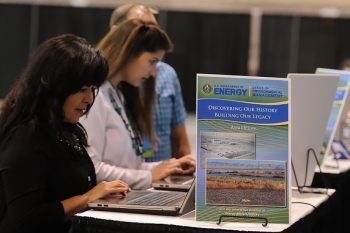 Visitors to EM's booth at the annual Waste Management Symposia international conference participate in demonstrations of the new timeline.

The timeline details EM's key cleanup accomplishments, including the 2013 demolition of a Paducah site facility used to manufacture uranium metal. The timeline features links to major program reports issued since 1998 that show the evolution of EM's mission as well as photos and videos, such as the time-lapse video shown above.
WASHINGTON, D.C. – In honor of its 25th anniversary, EM launched a new timeline this week that offers stakeholders and other members of the public a first-of-a-kind opportunity to view the nuclear cleanup program's achievements and related Cold War history in an interactive online platform.
EM Senior Advisor Dave Huizenga announced the launch of the timeline during the annual Waste Management Symposia international conference for the management of radioactive waste and related topics in Phoenix this week.
Featuring photos and videos, EM's Web-based chronicle, accessible here, captures hundreds of critical cleanup accomplishments and other historic events related to the program, from the start of Manhattan Project work at Oak Ridge, Hanford and Los Alamos in the 1940s to the closure of underground waste tanks at the Savannah River Site in late 2013.
"Our Internet-savvy timeline is another example of EM's efforts to communicate the importance of the Cold War cleanup to the public and demonstrate the EM program's value to taxpayers," EM Deputy Assistant Secretary for Program Planning and Budget Teresa Tyborowski said. "In addition, EM's many accomplishments laid out in this timeline attest to our program's deep knowledge and experience in nuclear cleanup."
The timeline, which will be updated periodically, is featured on the history page of EM's public website, which is part of the DOE website, Energy.gov. Users can apply filtering options to view content on specific EM sites and cleanup mission areas.