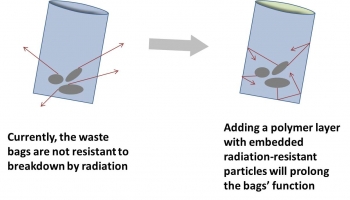 This graphic shows the benefit of applying a thin film as a polymer coating to waste containment bags used for radioactive waste shipments.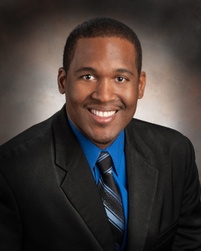 Savannah River National Laboratory Senior Scientist Dr. Aaron L. Washington II is the laboratory's lead investigator for the research to develop material to safely contain radioactive waste disposal shipments.
AIKEN, S.C. – EM is funding research at the Savannah River National Laboratory to develop a material to safely contain the radioactive waste generated by a planned multi-year decontamination project at the Savannah River Site (SRS) while the waste is being shipped for disposal.
The research, in collaboration with professor John Anthony and his team at the University of Kentucky, is funded by EM's Office of Site Restoration as part of its Technology Development and Deployment efforts.
The laboratory, part of DOE's network of national laboratories, is working to create an organic thin film that would be applied as a polymer coating to the surface of plastic containment bags within metal containers used to transport plutonium-238. This radioactive isotope has a half-life of about 88 years and is a decay product of spent reactor nuclear fuel.
"A radiation shielding, organic thin film coated RadBag provides the direct benefit of more stability in the storage, transport, and disposal of alpha-producing waste material. This technology addresses the focus on alternative materials in radiation shielding and detection capabilities," said Dr. Aaron L. Washington II, the laboratory's senior scientist and lead investigator for the EM research.
This containment bag solution would resolve a complex technical challenge in the deactivation and decommissioning of inactive plutonium processing facilities requiring waste containers resistant to radiation degradation.
SRS plans to decontaminate the F Area Building 235-F Plutonium Fuel Form Facility. Constructed in the 1950s as part of the site's weapons materials production and fabrication missions, the facility was used primarily for plutonium and neptunium component production processing before its operations were discontinued in 1983.
The thin film coating would alleviate the risk of waste-container degradation, thereby improving worker safety. It efficiently absorbs alpha radiation generated by plutonium-238, preventing high-energy alpha particles from exiting the interior of the containers. The coating also could function as a radiation sensor by changing color when exposed to a sufficient amount of the alpha-particle emitters.