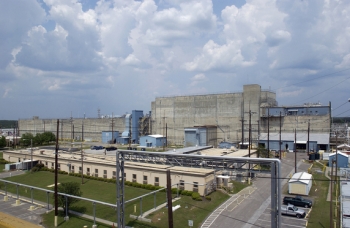 H-Canyon at Savannah River Site. The building is called a canyon because of its long rectangular shape and two continuous trenches that contains process vessels.
AIKEN, S.C. – EM issued an amended Record of Decision (ROD) to the Savannah River Site (SRS) Spent Nuclear Fuel Environmental Impact Statement to expand the operations of the H-Canyon Facility at SRS to support a major nuclear non-proliferation goal and save taxpayer dollars.
DOE recently signed a contract allowing Atomic Energy of Canada Limited (AECL) to fund SRS to receive and downblend residual material in H-Canyon from Molybdenum-99 production containing U.S. origin liquid highly enriched uranium (HEU).
This agreement is part of the commitment made between Prime Minister Stephen Harper of Canada and President Barack Obama of the United States at the Nuclear Security Summit in Seoul, Republic of Korea on March 27, 2012 in expanding efforts to return additional inventories of HEU materials currently stored at AECL's Chalk River Laboratories in Ontario to facilities in the United States. The commitment supports international efforts to consolidate and dispose of HEU and to combat the threat of nuclear terrorism.
The amended ROD will enable DOE to process the minimum quantity of used nuclear fuel (UNF) from L-Basin in H-Canyon through 2018 necessary to accommodate future receipts of Foreign Research Reactor (FRR) and Domestic Research Reactor (DRR) spent nuclear fuel. Freeing up storage space in the L Basin for these purposes provides continued support for U.S. non-proliferation goals and avoids the need for costly modifications to the L-basins, providing near-term savings of approximately $40 million to U.S. taxpayers. 
L-Basin, which is the only operating fuel receipt and storage facility at SRS, plays a vital role supporting receipts of FRR and DRR UNF. L-Basin is at storage capacity for High Flux Isotope Reactor (HFIR) cores, which are a different size and configuration than other UNF in L-Basin. As early as 2016, L-Basin is projected to reach its storage capacity for other UNF.
The amended ROD furthers research efforts underway by the DOE Office of Nuclear Energy (NE) and National Nuclear Security Administration (NNSA). H-Canyon provides a live testing environment for two scientific, safety and security programs. NE's Fuel Cycle Research and Development program and NNSA's Advanced Safeguards Instrumentation efforts will collaborate to improve process monitoring instrumentation and promote the strengthening of nuclear safeguards worldwide to help ensure the safe, secure and peaceful implementation of civil nuclear energy programs.
Since 2002, H Canyon has downblended over 22 metric tons of surplus enriched uranium, resulting in enough energy to power every home in the U.S. for 50 days or every home in South Carolina for nine years and permanently eliminating the equivalent of about 500 nuclear weapons.