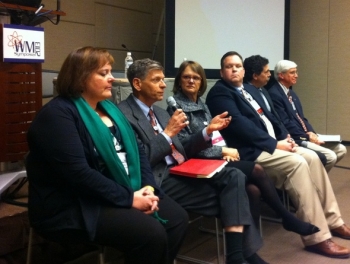 Participants in the session on Advisory Board contributions to the EM program included, left to right, Karen Guevara, Savannah River Site; Ralph Phelps, Northern New Mexico Citizens' Advisory Board; Cate Alexander, EM; Eric Roberts, EHI Consultants; Dave Adler, Oak Ridge site; and Ralph Young, Paducah Citizens Advisory Board.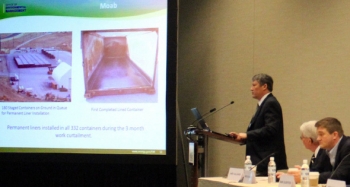 In a Waste Management Conference session titled "Hot Topics in U.S. DOE Environmental Management," EM Deputy Assistant Secretary for Site Restoration Mark Gilbertson, left, identified several EM achievements. He pointed to the startup of the 200 West pump-and-treat operation at Hanford, the first facility in the DOE complex to attain the Leadership for Energy and Environmental Design (LEED) gold certification for sustainable design. Gilbertson also highlighted the 2012 launch of the Biomass Cogeneration Facility at the Savannah River Site.
Advisory board contributions to the EM program were the subject of a session at the Waste Management Conference. 
Designated Federal Officer Kristen Ellis and Elizabeth Schmitt with EM's Office of Intergovernmental and Community Activities held a presentation marking the 20th anniversary of the Environmental Management Advisory Board. The session also featured presentations and a panel discussion on the EM Site-Specific Advisory Board (EMSSAB).
EMSSAB local board Chairpersons, Ralph Young, with the Paducah Citizens Advisory Board and Ralph Phelps, the former Chair of the Northern New Mexico Citizens' Advisory Board, presented practices that contribute to the board's effectiveness. Local Deputy Designated Federal Officers, Karen Guevara of the Savannah River Site and Dave Adler of the Oak Ridge site, reported site management views of their local board's contributions, including some of the most significant recommendations.
Cate Alexander, Designated Federal Officer for the EMSSAB, gave an overview of the legal and policy framework within which the board operates and current methods of assessing board effectiveness. Portsmouth SSAB facilitator Eric Roberts described some of the challenges of public involvement with board activities on contentious matters.
Representatives of cleanup efforts in Canada and Brazil noted that both countries are evaluating the EMSSAB experience for public advisory input in their countries.