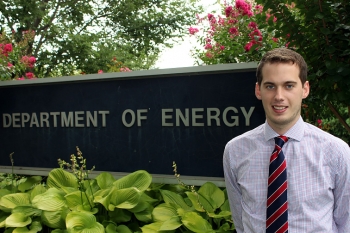 British Research Scholar David Ward
WASHINGTON, D.C. – For the first time in four years, EM headquarters is hosting a research scholar from the United Kingdom.
   David Ward, a recent University of Nottingham graduate, arrived from England's National Nuclear Laboratory (NNL) this summer to support EM's WTP and Tank Farm Program Office. That office is the program sponsor for the Waste Treatment and Immobilization Plant and tanks farms at the Hanford site in Washington state. When complete, it will be the world's largest radioactive waste treatment plant, designed to process and stabilize 56 million gallons of radioactive and chemical waste currently stored at Hanford.
   Ward's five-month EM assignment is hosted by nucleargraduates, a two-year British training program that provides varied experiences in the nuclear industry. The selection process is competitive, with more than 3,000 applicants vying for less than 50 spots annually. Each scholar typically completes three eight-month residencies and additional training. Industry sponsors pay the scholars' salary as well as travel and lodging expenses.
   In 2007, the U.K.'s Nuclear Decommissioning Authority (NDA) created nucleargraduates to help develop a new generation of nuclear professionals. NDA is responsible for cleaning up the legacy left by 20 former nuclear industry sites in Great Britain. Much like EM, many NDA sites have decommissioning challenges stemming from facilities used in the 1940s and 1950s.
   "In 2012, EM signed a statement of intent with the NDA on the management of radioactive waste and nuclear materials. It also allowed for assignment of personnel between the two organizations," said Rod Rimando, senior technical advisor for the WTP and Tank Farm Program Office, who interviewed Ward.
   Raised in England's East Midlands, Ward interned at the National Environmental Research Institute in India before earning his master's degree in chemical engineering in 2013. He joined the nucleargraduates program, and for 10 months took assignment as a research technologist for the NNL, a government-owned and operated nuclear services technology provider. While there, he worked on vitrification, a process to seal high-level radioactive waste in glass to stabilize it for long-term storage.
   "My last and next assignments deal with vitrification, and with a desire to experience government oversight and management, EM's WTP and Tank Farm Program Office is a brilliant fit," Ward said.
   Rimando said EM will benefit from Ward's assignment.
   "With David's recent vitrification experience at NNL, we hope to learn from him as he will learn from us," Rimando said.
   Ward's goals at EM are to develop a working knowledge of its Cold War cleanup program, gain practical real-world experience in EM cleanup efforts and government business operations, and identify reciprocal opportunities for the U.S. and U.K. nuclear industries.
   "I hope to use my experience not only to gain expertise, but to help to continue building the relationship between the U.K. and U.S. programs," said Ward.
   His next residency will be at Sellafield, the U.K.'s nuclear reprocessing site located on the west coast of England, where he looks forward to becoming a vitrification systems engineer.