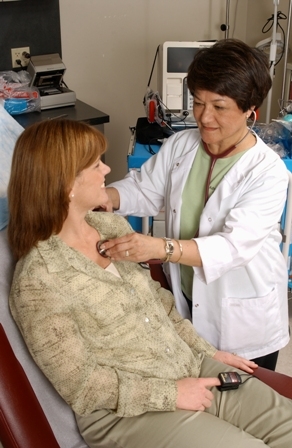 A registered nurse with EM contractor HPM Corporation checks a patient's vital signs at the Hanford Occupational Medical Services Clinic.
WASHINGTON, D.C. – EM plans to complete more fixed-priced procurements in the future, and some may involve a new combination of contracting strategies proven successful at the Hanford site.
The Hanford success story marked EM's latest use of a hybrid fixed-price contract. The estimated $99 million contract went to HPM Corp., a certified minority- and woman-owned small business, to provide occupational medical services. More than a year has passed since HPM was awarded the contract, and EM's Richland Operations Office at Hanford reports the contract is working well and that the contractor's performance is acceptable.
 "Applying this contract type reduces the government's risk and protects the interest of taxpayers, demonstrating a strong commitment and top leadership support for improving contract management," EM Deputy Assistant Secretary for Acquisition and Project Management Jack Surash said.
The winning combination strategy used at Hanford comprises three parts. One is the use of a firm-fixed-price contract. Under this contract type, EM identified the work scope and HPM submitted a firm price, including its profit and overhead costs.
DOE believes firm-fixed-price contracts align with taxpayer interests. The Department asks contracting officers to consider awarding this type of contract before others, such as cost reimbursement contracts. Firm-fixed-price contracts are most appropriate for services objectively defined in a statement of work, and the risks involved can be estimated with an acceptable degree of certainty. They are also appropriate for construction contracts when design is completed prior to contract award. Use of these contracts benefits the Department by providing greater budget stability. These contracts also motivate contractors to identify improved methods of performance to increase profits.
The Hanford hybrid contract cost is about 2.5 percent less than the previous contract for occupational medical services. Under the previous contract, EM reimbursed the contractor for all costs allocable under the contract, allowable under federal acquisition regulations and reasonable using sound business judgment.
The second part of the hybrid contract is a cost reimbursement component to account for unpredictable costs, such as employee pensions and x-rays and laboratory tests that cannot be completed onsite. The contractor is not allowed to earn a fee under this arrangement.
The third part of Hanford's hybrid contract, called indefinite quantity, addresses the potential for paying overtime or hiring additional workers if needed.
Fewer government resources were used to award the hybrid contract compared to cost reimbursement contracts, which require extensive cost evaluations and audits that often take several months. Post-award, contract management and administration requires fewer DOE resources because business system reviews and additional audits are not required.
EM's drive to use firm-fixed-price contracts is one of several key reforms instituted to continuously improve contract management. Other reforms include the implementation of policies requiring more front-end planning; ensuring federal project directors and contracting officers have access to relevant training; and more frequent project reviews by peers and experts in contract and project management to make sure issues are identified early and lessons learned are applied in real time.
"We remain focused on sustained process improvements with the goal of improving our results," Surash said. "As I've said before, acquisition and project reform is a journey, not a destination."