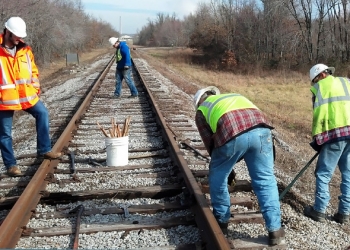 Employees with Swift & Staley Inc., a Paducah site small business contractor, repair a railroad on the site.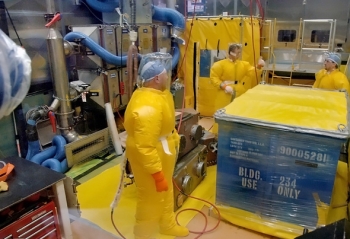 Employees with Wastren Advantage, Inc., an Oak Ridge small business contractor, package waste for disposal at the Transuranic Waste Processing Center at Oak Ridge.
WASHINGTON, D.C. – EM obligated nearly $385 million to prime small business contracts, or 7.9 percent of its $4.9 million procurement base, in fiscal year 2013, far surpassing its goals.
EM exceeded an initial goal of 6 percent and stretch goal of 7 percent, continuing a trend since 2006 in which the Cold War cleanup program met or moved past its fiscal year targets for contracting with small businesses.
"Even in this time of major fiscal challenges, our sustained efforts to promote small businesses are paying off," EM Senior Advisor Dave Huizenga said. "Surpassing our prime small business goal by reaching 7.9 percent is a significant achievement that reflects the hard work and dedication of all federal staff advocating on behalf of small businesses."
John Evett, the small business program manager at EM headquarters, credited small business program managers at field sites with helping EM go beyond the goals. Those managers worked hard to ensure contracts were placed with small businesses, he said.
"They were very focused and dedicated to meeting and exceeding the goals," said Evett, who works in EM's Office of Procurement Planning.
Field sites that helped EM surpass the targets include the Consolidated Business Center (CBC) in Ohio, Portsmouth/Paducah Project Office in Kentucky, Oak Ridge offices in Tennessee and Carlsbad Field Office in New Mexico. CBC manages EM's small sites, which include Brookhaven National Laboratory, Separations Research Process Unit and West Valley Demonstration Project in New York; Energy Technology Engineering Center and SLAC National Accelerator Laboratory in California; Argonne in Illinois; and Moab in Utah.
Small businesses provide EM a broad range of assistance, including transportation, waste processing, remediation, environmental characterization, occupational medical services and laboratory services.
"EM is committed to providing prime contracting opportunities to small businesses," Evett said. "We value their contribution, which propels us to succeed in our mission."
EM is committed to creating sustainable contract opportunities for small businesses by increasing the amount of meaningful work for small business prime contracting. For example, EM headquarters is working to develop small business contracting strategies with the field sites and DOE's Office of Small and Disadvantaged Business Utilization, which has a mission to maximize contract and financial opportunities for small businesses and entrepreneurs at the Department.
DOE honored EM as the inaugural recipient of a new award for extraordinary efforts to expand contract opportunities for small businesses in 2012.
The Sub-to-Prime Small Business Champion of the Year Award honored EM for exceeding expectations as an advocate of small firms by awarding several major contracts previously held by large companies to small businesses.