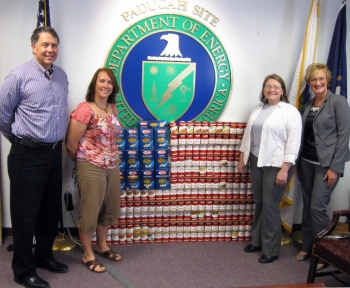 Pictured from left to right in front of the Paducah site's American Flag display are Mark Duff (LATA Environmental Services of Kentucky, LLC), Christa Dailey (Pro2Serve), Jennifer Woodard (EM Site Lead), and Kelly Layne (LATA KY).
The U.S.-themed display at the Portsmouth site.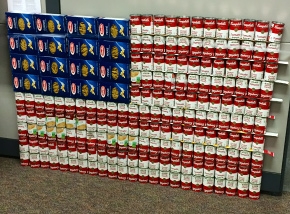 The Lexington office's Feds Feed Families display.
EM, Contractor Employees Gather Food for People in Need
LEXINGTON, Ky. – EM and its contractors at the Portsmouth/Paducah Project Office (PPPO) in Lexington and Paducah, Ky. and Portsmouth, Ohio put a patriotic touch on their local efforts as part of the national Feds Feed Families campaign, which runs through Aug. 27. Employees at the three offices fashioned donated items for the food drive into American flag displays in honor of Independence Day. Led by the U.S. Department of Agriculture, the campaign collects food and personal hygiene items to help restock the shelves of organizations that help less fortunate people. Since the program began in 2009, federal agencies and contractors have donated and collected 24.1 million pounds of food and nonperishable items. The program helps communities in every state. For more information, click here. More photos of the displays from PPPO are below.