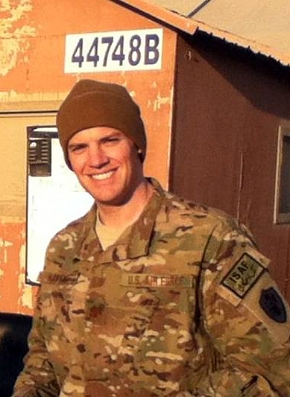 James Hawkins
BAGRAM AIRFIELD, Afghanistan – EM employee James Hawkins is currently serving the U.S. military in Afghanistan, where he is administering a $5.8 billion task order for the Army.
A major in the U.S. Air Force Reserves, Hawkins is an administrative contracting officer for the Defense Contract Management Agency, a component of the Defense Department that directly contributes to the military readiness of the U.S. and its allies.
Hawkins is an acquisition planning manager and procurement analyst in the Office of Procurement Planning in EM's Office of Acquisition and Project Management. He has vast experience in transportation services, cargo distribution, vehicle fleet operations, logistics planning, network operations, services and construction projects to support military operations that provide deployed soldiers housing, meals, transportation and force protection.
He began serving in Afghanistan in November last year. Hawkins and a small staff at Bagram Airfield manage the order, which provides services for food preparation, roads and grounds, vehicle maintenance, laundry services, facilities maintenance, minor construction and other essential supplies and services needed to maintain the bases in that region.
Hawkins began his career with the Army in 1992, enlisting as a non-commissioned officer. He graduated from the Officer Training School at Maxwell Air Force Base in Alabama in 2002. He then transferred to the Air Force.
Hawkins has completed military assignments throughout the world. In his first, he served as officer in charge at the Aviano Air Base in Italy with the Air Force's 31st Logistics Readiness Squadron. In 2006, he was stationed in Iraq as the Baghdad Regional Contracting Deputy Chief, responsible for managing 10 contract specialists. Hawkins also has served in Florida, Indiana, Colorado and South Carolina.
Launching a federal career in 2008, Hawkins began working at the DOE as a senior contracting officer with the Savannah River Site in Aiken, S.C. He provided expert oversight and administration of complex contracts for radioactive liquid waste with unique incentive structures.
Hawkins plans to return to his position in EM in September.